Ambassador's Blog: Letter from Pacaraima
Blog
12 March 2019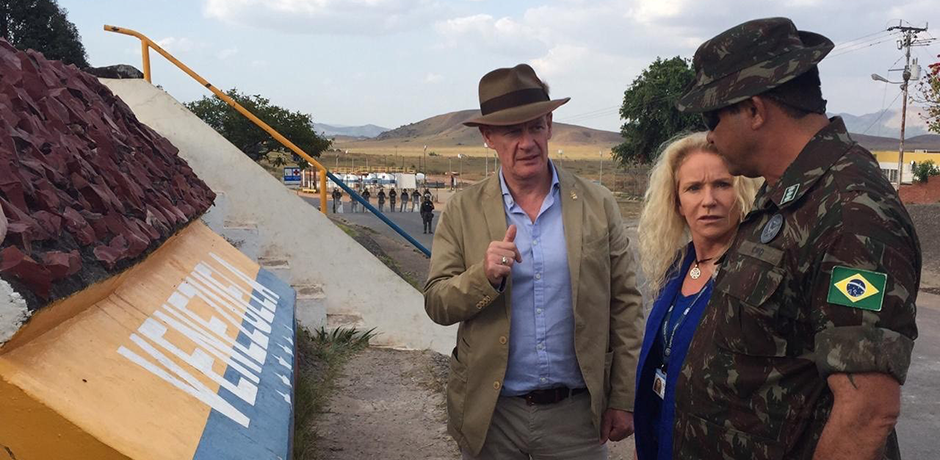 This is probably as far north as I will ever go in Brasil. It is not the most northerly point, but then again not everywhere is easy to get to in this mass land. Today, I am walking the border with Venezuela. Everywhere is eerily quiet, like Sunday morning at home but this is Wednesday. The border was closed by Venezuela due to an attempt to cross with a convoy of humanitarian aid. Now, everything is closed, there are no refugees crossing today.
Yesterday, we visited the processing centres in Boa Vista, the state capital of Roraima. Venezuelan migrants sit in silence as their papers are processed allowing them to enter Brasil as either refugees or as temporary workers. They sit patiently, they are fed and given water and classical music is played over loudspeakers to ease the tension. This is a well-planned operation. It takes time but the tension that fills every airport until you actually get on board is not here. Men, women and children are sitting patiently for decisions that will change their lives, perhaps forever.
After the paperwork, most will apply for work elsewhere in the big cities that can swallow up a hundred more people a day without missing a step. Brazilians are keen to tell you that this is a country of migrants. For Brazil, these are people that want a chance for a better life. Almost every family that came to Brazil came for this, a better life.
There are shelters called abrigos where those who await papers or jobs are temporarily housed. There are also indigenous people who wish to stay closer to their border as they have family stretched across these hills. These are the first owners of this place moving until now with little heed to border passes. The indigenous groups stay in a large warehouse where they can hang their hammocks. They live as families with no division from their neighbours. I sit with the women to hear their stories, it is all through translation and there are too many of us. A quiet word is like a broadcast to them and we let the moment pass. It will be better in Pacaraima tomorrow, there will be less of us.
The long day in Boa Vista is bookended by a visit to the city's bus station. We are only four of us now, crowded into the jeep before entering the crowd, deliberately dressed down. We are met by the army, once again almost all unarmed and smartly turned out. Unlike the soldiers we see as we go to and fro in the world, the heavily armed troops in airports, these soldiers try to catch our gaze. They snap to attention before extending a warm handshake. The female soldiers on occasion, offer me a kiss on the cheek.
The bus station, always a place for queues, has migrants lining up for temporary shelter. They hand in their IDs and receive a small tent, some snacks and one hot meal per family. Again, it is the army arranging everything. It is one of those occasions when a voice inside you tells you that you should come back at the weekends and volunteer. We follow one family to the open ground where the tents are set up. Two armed soldiers casually provide protection for the hundred or more families setting up in the open. It is silence that hangs, no chitter, no grouping of men or women comparing and comforting. The families stay together, parents feeding children before themselves, the men mostly bare chested, as is their way.
The Colonel who brings us around, seems to know everyone. He offers a little extra for those who ask. It is his second tour here, he asked to come back. I ask what will happen when the rains are expected in a few weeks, the skies already heavy above us and rumbling. We need more abrigos, he says. More people will come once the border opens again.
Pacaraima appears in shock with the border closed. All the positions are open in the processing centre like that quiet minute in an airport before the next flight is due in. Classical music calming the waiting officers. Everybody wants us to visit them, everybody wants to shake our hands. For those who offer a kiss on the cheek, I am minded of the social borders this breaks down. Our programme runs over, we just have time for our last visit is to visit a children's choir, organised by one of those exceptional women whose name will linger in myth long after this has all passed. The singing is well drummed harmonies that lift to the skies. There is something God-given about it all. It brings back a lost memory, some twenty years ago in Johannesburg airport when I was travelling home the week before Christmas. There was slow motion chaos with the barging of trolleys by impatient travellers cutting into queues, afraid of missing their flights. The tension only broken when from amongst us, a group of twenty or so Swedish students on a school trip began to sing. It was the music of Santa Lucia and it swept over the airport like a magic mist, every one of us suddenly taking pause of where we were.
I was lost in this moment, wondering if humanitarian work is indeed just the same tune with different words or perhaps different tunes with the same words. My thought was broken, when Megan, my impromptu interpreter into Spanish nudged me. We were with the mothers of the choir, a group of women who shared with us their stories and their fears. As we were urged to the cars to travel back in daylight, one mother said,
"I used to know what was right. I always knew what to tell my boys, I could tell them what to do next. Now, that is gone.." and her voice faded to silence.