Ambassador Ruaidhri Dowling
‌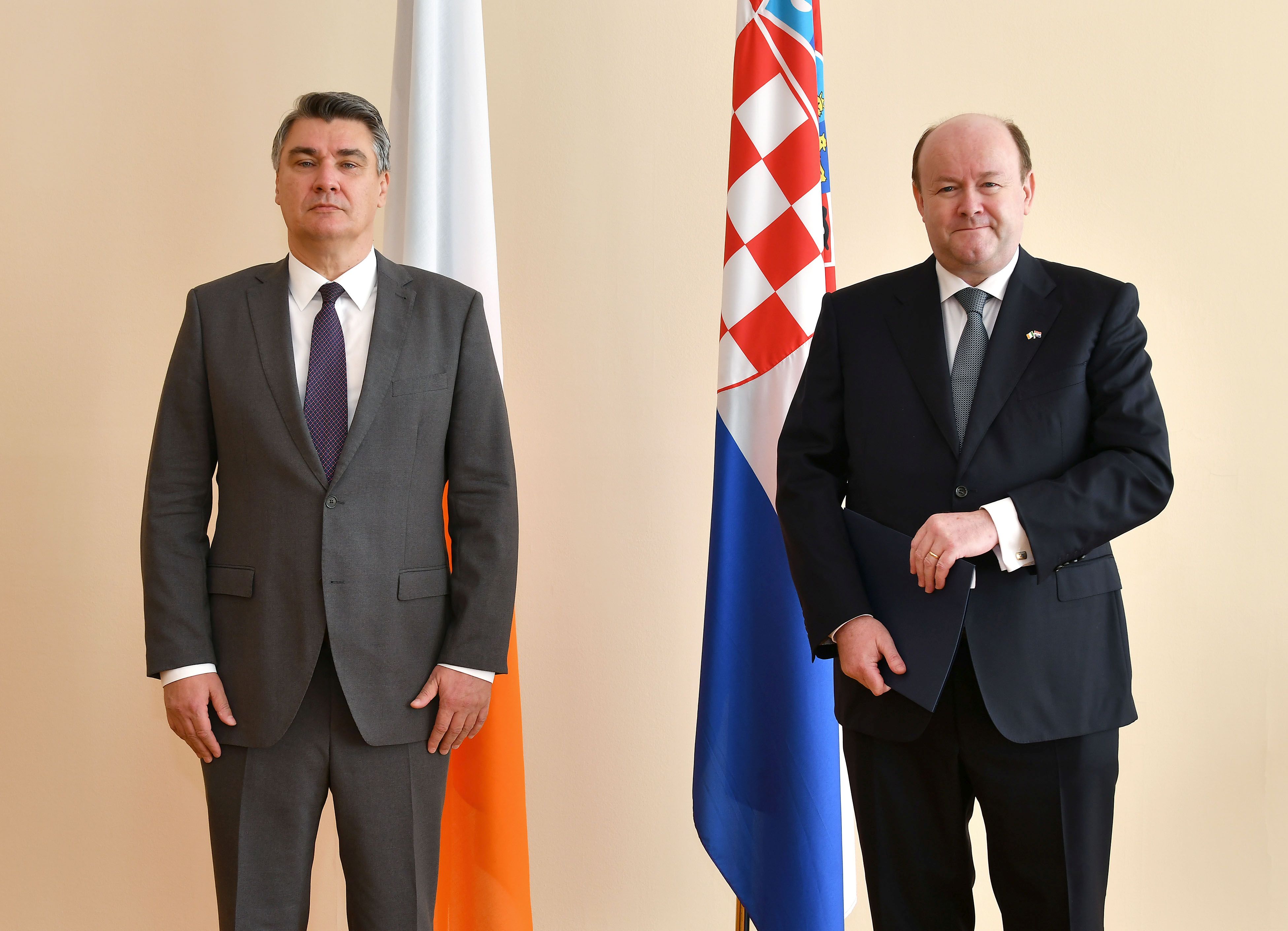 photo credit: Office of the President of Croatia / Tomislav Bušljeta
Ambassador Dowling is Ireland's third resident ambassador in Croatia
Ruaidhri Dowling presented his credentials in September 2020, becoming the third resident Irish Ambassador to the Republic of Croatia.
Ambassador Dowling joined the Department of Foreign Affairs in 1998 and has served in Australia, Greece, Ireland's Permant Representation to the EU (Brussels). Most recently (2016-20), he served at the Irish Embassy in London.
In the Department of Foreign Affairs in Dublin, Ambassador Dowling has worked on Development Aid, Eastern Europe, Russia, Disarmament and Non-Proliferation policy, as well as bilateral relations with the US and Canada. He attended University College Dublin and the Technological University Dublin. He is married, with one child.
Welcome Message
Fáilte chuig suíomh gréasáin Ambasáid na hÉireann sa Chróit.
Welcome to the website of the Embassy of Ireland, Croatia.
Dobro došli na stranicu Veleposlanstva Irske u Hrvatskoj.
I am honoured to be appointed as Ambassador of Ireland to Croatia. Together with my colleagues in the Embassy, I will endeavour to further promote the excellent bilateral relations between our two countries, building on the strong foundations laid by my predecessors and the staff of the Embassy.
Both countries have many similarities, though sadly not in terms of sunny weather! Like Ireland, Croatia is a beautiful country, with spectacular scenery, a rich culture and history, as well as warm and welcoming people.
Events in recent times have emphasised the value of working together in the EU on issues and I look forward to facilitating further cooperation between Ireland and Croatia in that regard.
I and my colleagues at the Embassy are also keen to encourage and build business links and trade between our two countries – please let us know where we might be of assistance.
While we are far from each other geographically, I have been impressed by the interest in Irish culture in Croatia: from dancing, music and film, to Irish traditions such as St. Patrick's Day, as well as literature, including the unique Bloomsday celebration in Pula, where Joyce spent a short period. I very much look forward to supporting Irish culture in Croatia and learning more about Croatian culture in turn.
I hope this website will be an informative resource on developments in Ireland, its bilateral relations with Croatia, and the work of the Embassy. We are also here to help - please drop us an e-mail or give us a call, if you need more assistance.
Is mise le meas/Srdačan pozdrav,
Ruaidhri Dowling
Ambassador