Ambassador Tim Harrington's farewell letter
Ireland's first resident ambassador to Croatia, H.E. Tim Harrington shares his thoughts on the last two years in Croatia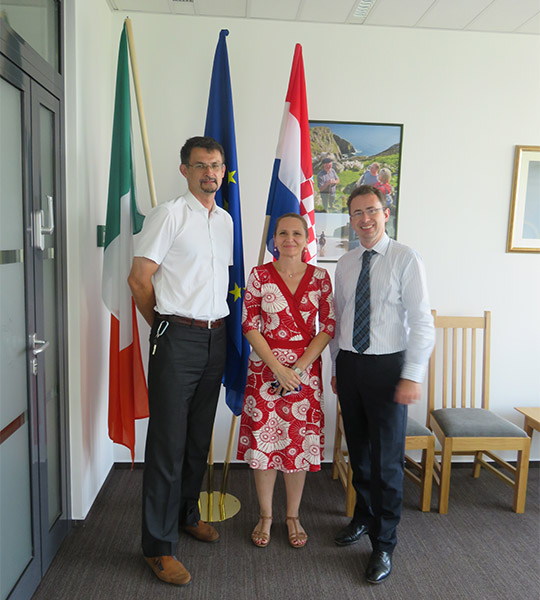 After two years it has come time for my family and I to say goodbye to Croatia. After a short holiday in Ireland we leave for a new diplomatic posting in China. In the normal course of events diplomatic postings are for four years, but sometimes one's Headquarters has other ideas!
We have greatly enjoyed our two year stay in Croatia. Both professionally and personally it has been a challenging and thoroughly enjoyable experience.
I was greatly honoured to be appointed as Ireland's first resident Ambassador to the Republic of Croatia and delighted when I presented my credentials to President Josipović on 9 September 2014. Opening a new Embassy presents many challenges from finding a residence, an office, furnishing and equipping both, recruiting able local staff and establishing connections with the rest of the diplomatic community, the Irish Diaspora in the country, the Government, and most especially the people of Croatia.
Moving to a new country is always challenging. But since moving to Zagreb, I and my family have received the warmest of welcomes and being made to feel at home. The friendliness and hospitality reminded me very much of Ireland. This made the experience of living, working and raising a family in Croatia a pleasure.
We have all been very impressed by the natural beauty of the country and greatly enjoyed exploring as much of it as we could. We have explored the coast from Istria to Dubrovnik, trekked around Plitvice Lakes, and seen the Danube.
There are many highlights from our posting to Croatia; too many to recount all. But an early highlight was the opening of the Embassy by Minister Kevin Humphreys on St Patrick's Day, 17 March 2015. Juggling an Embassy opening, a Ministerial visit, and a St Patrick's Day programme was certainly memorable!
In the two years I have been in Croatia I have seen the connections between our two countries growing. Not least in the increasing number of people from Croatia who have chosen to make their home in Ireland. These people to people connections are also matched at the political level. I was glad to find on my arrival an active Croatian-Irish Parliamentary Friendship Group, Chaired by Mr Domagaj Hadjuković, MP.
One of the special privileges I have experienced is working to raise awareness of Irish culture. There are more connections between Ireland and Croatia than one might suppose. In Pula I was very impressed by the annual Bloomsday Croatia festival to mark James Joyce's sojourn in that city in 1904/5. In Zagreb we had a memorable evening, to mark the 150th anniversary of the birth of Ireland's national poet, W.B. Yeats. A special highlight was Ireland being the country partner for the Zagreb Book Festival in 2016. Another surprise was the enthusiasm of the Irish dance troupes in Croatia!
I have to say a special word of thanks to the wonderfully dedicated staff in the Embassy. Kristina Szabo and Bernard Vrban who have done so much in such a short length of time to serve Ireland and Irish people living and travelling in Croatia.
A special and heartfelt thanks to my wife Majella and also to my two boys. The posting has been very much a partnership between myself and Majella to whom I owe so much. We begin a new adventure in a few weeks time in China. But we leave many happy memories and friends here in Croatia and we look forward to returning some day.
To my soon to be announced successor I extend my best wishes. I know the Embassy will be in capable hands.
Farewell and best regards
Tim Harrington