Ireland-Cyprus Relations
The Embassy plays an important role in the strong partnership between the Irish and Cypriot Governments and peoples.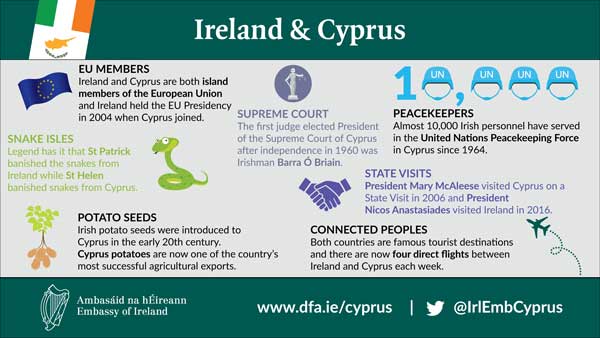 Ireland and Cyprus have enjoyed excellent relations over many years. We have certain historical experiences in common, along with the use of English as a common language. Our two countries have rich maritime traditions and millennia of archaeological remains, to be explored on site and in the many quality museums.
We are both committed to the peaceful resolution of disputes and international peace and security. Hence our membership of the European Union, the Council of Europe and the Organisation for Peace and Security in Europe.
We are both dedicated to the efforts of the United Nations and its Charter. Ireland has manifested its commitment to the UN and to Cyprus through its long association with the UN peace-keeping missions (UNFICYP/UNCIVPOL) on the island, providing many thousands of military and police peace-keepers.
Recently, both countries have endured economic difficulties and austerity measures. Our respective economies are now showing signs of recovery, thanks to the determination of all concerned, and the solidarity of friendly states and international organisations. Together, Ireland and Cyprus can look forward to a brighter future for all our citizens.