Battle of Clontarf Remembered
To mark the 1000th anniversary of the Battle of Clontarf, Dr. Pat Wallace, former Director of the National Museum in Ireland, was invited to visit Denmark by the Embassy and gave two public lectures on Danish/Irish connections from the Viking era.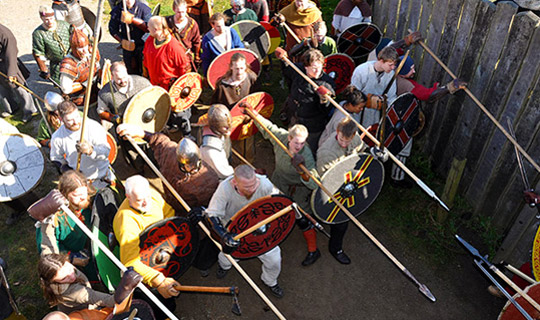 Firstly, on Friday 23 May, Dr. Wallace addressed an audience at Trelleborg Museum, one of the most important Viking sites in Denmark, and indeed one of the most important archaeological finds in Northern Europe.
Dr. Wallace spoke of the reality behind the Battle of Clontarf, the influence which the Danish and the broader Scandinavian inhabitants of Ireland had had and traced the mythology which had developed around the battle in later years. His talk also coincided with the opening of an exhibition of tapestries on the Battle of Clontarf by a Danish artist, Susanna Thea. The exhibition was officially opened by Ambassador Scannell, while the Mayor of the region also addressed the gathering.
On Saturday 24 May, Dr. Wallace gave a second talk at the Embassy. In addition to the Battle of Clontarf, Dr. Wallace also spoke of his experiences leading the excavations at Wood Quay, and paid tribute to the assistance which Irish archaeology had received from Danish practitioners over many years.