Cathal Mahon of CAPNOVA speaking to the Irish Professional Nordic Network
On Thursday 25 June, the Embassy was delighted to be able to arrange for Cathal Mahon, Investment Manager with CAPNOVA, to address members of the Irish Professional Nordic Network (IPNN) living in the Copenhagen region.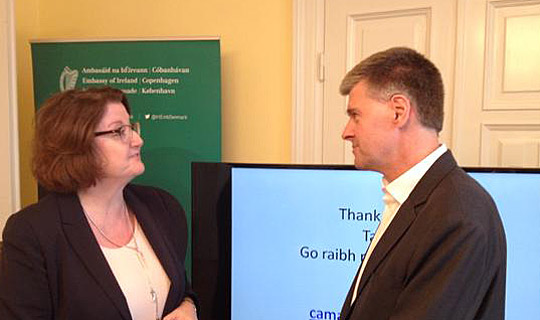 The IPNN is primarily a Linkedin group, which has over 900 members located across Scandinavia, as well as in Ireland and elsewhere. The Embassy in Copenhagen has hosted a number of networking events in recent times, as have the other Irish Embassies in the Nordic region, and we were very pleased to be able to do so again.
Cathal Mahon has lived away from Ireland since graduating from University in Ireland, and has an extensive array of international experience gained in Denmark, The Netherlands and the United States. He was able to give a most illuminating talk, giving insights on working and networking in an international environment, particularly in a Danish context.
In addition, Cathal spoke about the work he does with CAPNOVA, an investment and development company which looks to bring innovative ideas into the market place as successful businesses, with a particular focus on food tech and interactive technology.