Marking the Yeats2015 Anniversary in Copenhagen
With 2015 marking the 150th anniversary of the birth of Nobel Prize-winning poet, William Butler Yeats, the Embassy of Ireland in Copenhagen was delighted to be able to honour the legacy of one of the most celebrated Irish writers of the twentieth century.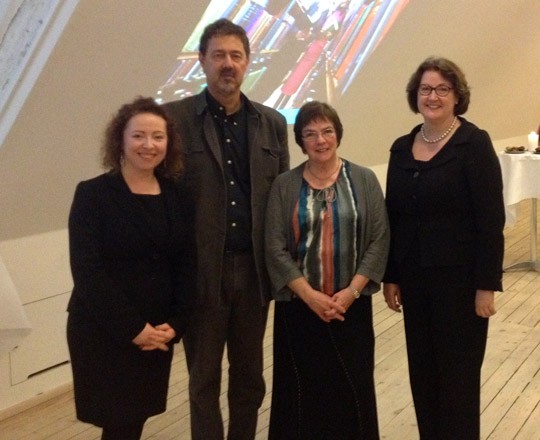 On Wednesday 2 December last, the Embassy had the privilege of hosting Mr. Mark Leslie of Martello Media, and Ms. Katherine McSharry of the National Library of Ireland. They had traveled to Copenhagen as part of the events to commemorate the 150th anniversary of the birth of William Butler Yeats, the winner of the Noble prize for Literature and widely regarded as Ireland's greatest poet.
The Life and Works of WB Yeats, the exhibition devoted to the poet's life and works, has been on display at the National Library of Ireland for some 10 years, despite originally being intended as a temporary display. Mr. Leslie, the main design force of the exhibition, gave an insightful presentation into WB Yeats, his writing and his personal life, as it is communicated through this award winning multi-media exhibition.
Katherine McSharry spoke of the important role which the exhibition has played in the recent history of the National Library of Ireland, as well as the direct association which the Library had with WB Yeats. He would often be found within the confines of the Library, and indeed had a special area reserved for him when he was writing.
The Embassy was delighted to have been able to host this very special event, and pleased to see so many people who had accepted the invitation to attend.