Minister Nash visits Copenhagen for Irish Design 2015
Minister for Business and Employment Mr. Ged Nash TD led a delegation to Copenhagen on 19 October last to officially open the New Architects: Ireland, exhibition at the Royal Danish Academy of Fine Arts. The exhibition forms part of the global Irish Design 2015 programme.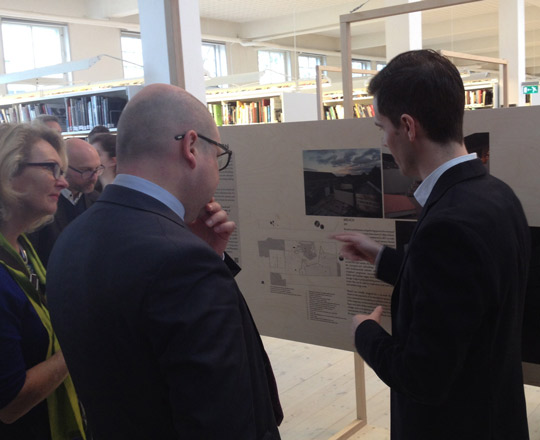 Minister Nash and the delegation undertook a series of meetings throughout the day with leading figures from the Copenhagen design community, including at the Danish Design Council and the Copenhagen Institute of Interaction Design. The Minister also had the opportunity to visit both the offices of Zeso Architects in Amager, and the site of A new house and apartment development currently under construction.
The delegation also met with a number of Enterprise Ireland client companies active in Denmark at present, and to learn first hand about the some of the challenges and opportunities which Irish firms face when operating in the Nordic region.
In the afternoon, the Minister opened the New Architects: Ireland, exhibition at the Royal Danish Academy of Fine Arts. Designed and curated by Architecture Practice and Experimentation, operated by two partners, Copenhagen based Irish architect Laurence Lord and Dutchman Jeffrey Bolius the exhibition showcased a number of projects undertaken by a variety of Irish architects in response to particular pressures of recent years, including re-purposing older buildings, providing new recreational spaces and re-designing schools to reflect current educational approaches.
The opening was followed by a panel discussion, moderated by Angela Brady, former president of the Royal Institute of British Architects. The panelists included Michael Bradley of Zeso Architects, Andrew Griffin of Urban Agency, which has offices in both Dublin and Copenhagen, Kathrin Gimmel of Copenhagen firm Ja-Ja and Sinus Lynge of Effekt. Much of the discussion focused on the lessons that Ireland and Denmark could learn from each other.
The exhibition, which has previously been displayed in Tallinn, can also be seen in Oslo and Stockholm in the coming months.