Unveiling of '1916' painting by Claus Havemann at Richmond Barracks
The painting '1916' by the Danish artist Claus Havemann was unveiled at Richmond Barracks on Saturday, September 2, 2016. Those in attendance at the unveiling included the current Irish Ambassador to Denmark, Ms. Cliona Manahan as well as the previous Irish Ambassador to Denmark, Mr. Brendan Scannell.
‌‌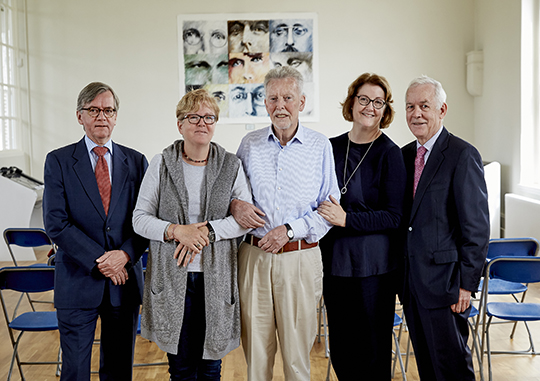 Claus Havemann said that "I choose different themes every year. One year Irish skies, another year hands and in 2013 I painted eyes. That is when I painted this painting of the heroes of 1916. I have always been interested in Irish culture and history – from the Great O'Neill to Michael Collins. I found very little about the women of the time of the Easter Rising but history has shown them equally involved in the early days of the movement. So here they are side by side with the men."
Claus Havemann was born in 1942. He studied for 4 years at the Commercial Arts College in Copenhagen. His first exhibition was "Kunstnernes Efterårsudstilling" at "Den Frie" in 1969. His first one man show was in Gallery Arnesen in 1974.
Thirty years ago he built a house on Sherkin Island in west Cork and he continues to work there from May to October each year.