The Embassy
Practical information on who we are and how to find us.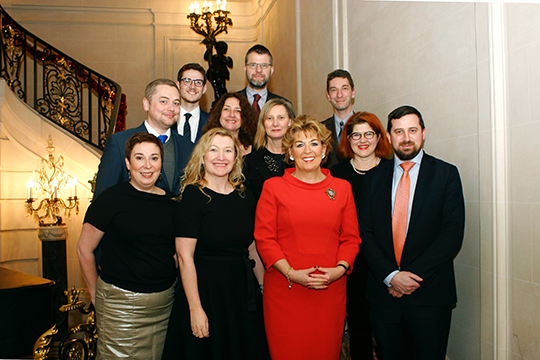 E‌mbassy Team
Diplomatic Staff
Ambassador – Geraldine Byrne Nason
Deputy Head of Mission (Economic Affairs) – Mr. Niall Brady
First Secretary (Political Affairs) – Ms. Gráinne Hayes
First Secretary (Agricultural Attaché) – Dr. Karl Walsh
Second Secretary (Press, Consul) – Ms. Amanda Bane
Second Secretary (Cultural Affairs, Administration) – Mr. Peter O'Connor
Embassy Staff
Ambassador's assistant – Ms Laetitia Dufour
Political / Press / Culture assistant – Ms Brigitte Porte
Economic / Agriculture assistant - Ms Martine Alix
Administration - Ms. Tracey Culloty Lacoste, Mr. Philippe Schiltz
Consular / Passport assistants – Ms Patsy Mignot, Ms Karen Murphy
Visa assistant – Mr Ruairi McGrath
Receptionist / Information requests – Ms. Jeanne Canet
Embassy driver - Mr Jean Lapi
Embassy Opening Hours
The Embassy is open to the public Monday to Friday from 9.30am to 12.00pm.
Our phone lines are open Monday to Friday from 9.30am to 12.30pm and from 2.30pm to 5.30pm.
Out of hours Emergency Contact Details
If you require emergency assistance while the Embassy is closed, please call the main Embassy number, +331 44 176700, and leave a message on the Duty Officer voice mailbox. This mailbox is monitored regularly.
Directions to the Embassy
The nearest metro station is Argentine on line 1. When you come out of the metro station, walk back towards the Arc de Triomphe. The entrance to the Embassy's public office is at 4 rue Rude, which is the second street on the right after you exit the metro.
The nearest Velib station is at Rue Traktir.
Embassy of Ireland
12 Avenue Foch (entrance 4 rue Rude)
75116 Paris