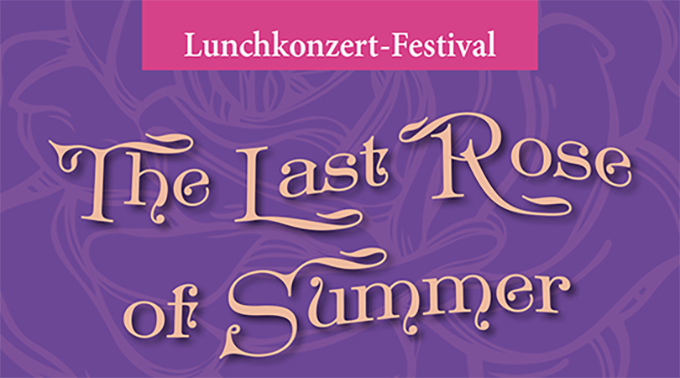 ‌
The Last Rose of Summer Concert Series
Welcome by H.E. Michael Collins,
Ambassador of Ireland to Germany
This year marks the third annual Last Rose of Summer concert series. The Embassy is delighted to partner once again with our neighbours, the Mendelssohn-Gesellschaft e.V. Mendelssohn house, the former company headquarters of the Mendelssohn Bank, has been home to the Embassy since 2010. Over the years we have been privileged to host a number of events together with the Mendelssohn-Gesellschaft e.V. and we are thrilled to have an opportunity to work together again to present The Last Rose of Summer concert series in 2017.
Inspired by the roses in County Kilkenny in the middle of Ireland, it was the Irish poet Thomas Moore who composed the lyrics of 'The Last Rose of Summer' in 1805 and set it to a traditional Irish tune called "Aislean an Oigfear", or "The Young Man's Dream". The melody was originally transcribed by Edward Bunting and based on a performance by harpist Denis Hempson at the Belfast Harp Festival in 1792. There have been many arrangements of the piece, the most renowned version however is Felix Mendelssohn-Bartholdy's Fantasy op 15 about the Irish song 'The Last Rose'. How fitting it is therefore that we will be welcoming Irish harpist Siobhán Armstrong to perform on the final day of the concert series in Mendelssohn house.
There will be wonderful music to be heard throughout the week and we invite you to enjoy five lunchtime concerts from August 28 until September 1 featuring talented musicians from Germany, Ireland and beyond. We look forward to welcoming you to Jägerstr. 51 together with our dear friends from the Mendelssohn-Gesellschaft e.V.. Let us not lament the passing of the summer as an end, but rather herald the beginning of autumn and the unique delights it brings.
Tickets available from 31 July – 25 August in the Embassy of Ireland, Mon-Fri, 10:00 – 12:30
Reservation Fee €5 in aid of the Mendelssohn-Remise.
Tickets are also available online:
Monday 28.08 - Vladimir Stoupel
Tuesday 29.08 - Pavel Sokolov & Kimiko Imani
Wednesday 30.08 - Martin Sušnik & Emi Munakata
Thursday 31.08 - Anna Gütter, Judith Ingolfsson, Friedemann Ludwig & Vladimir Stoupel
Friday 01.09 - Siobhán Armstrong