German & Irish Relations
Ireland-Germany relations run deep and wide across many areas of activity.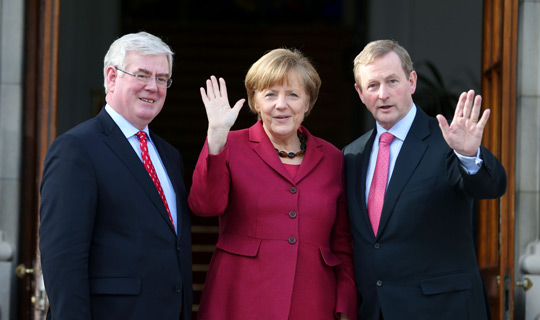 Ireland and Germany have long enjoyed excellent relations, politically, culturally and economically. These relations have been documented as far back as the 7th century, the time of Irish monk Kilian in Würzburg.
Over the last number of years we have seen our relationship deepen and intensify as we worked together to move Europe forward, particularly during the Irish Presidency of the Council of the European Union in 2013.
We are determined to build on this and to further enhance our ties in the period ahead. In doing this, we are building on solid ground and are already seeing signs of increased trade, employment and tourism.
The Irish Community living and working in Germany continues to grow and includes business people, students on university exchanges and Irish people who have simply decided to call Germany home. Their vibrant and unique contribution in the business and cultural spheres can be seen regularly at the events held by the many German-Irish societies, associations and clubs across the country.
There is also considerable German interest in our country and its culture. Indeed, Germans have long had an affinity for Ireland and there is a strong cultural interest in Irish literature, music and dance. This has been documented by writers including Prince Hermann von Pückler-Muskau in the 19th Century and Heinrich Böll in the 20th. 2013 saw record numbers of Germans visiting Ireland providing visitors with wonderful memories of breathtaking landscapes and warm Irish hospitality. These memories include those dating back to the assistance provided by Ireland to German children in the immediate aftermath of the Second World War during Operation Shamrock.