State Visit to the UK of President Michael D. Higgins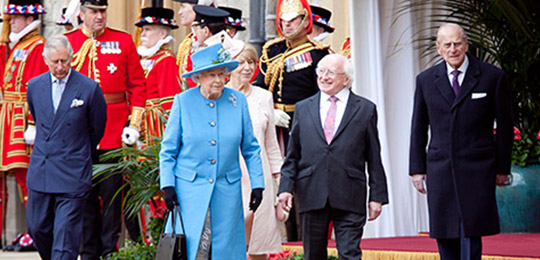 President Michael D. Higgins' State Visit to the United Kingdom from 8-11 April 2014 was an historic first State Visit by an Irish Head of State to Britain. The President and Sabina Higgins, accompanied by the Tánaiste, Mr Eamon Gilmore TD and an official delegation, arrived in London on the evening of Monday the 7th April and returned on the evening of Friday 11th April from Coventry. During the course of the State visit, the President and Sabina were guests of Her Majesty at Windsor Castle.
The President made a number of keynote speeches during his four day visit including to the joint Houses of Parliament at Westminster, at the State Banquet at the Windsor Castle, at the City of London Banquet and in the Guilhall Coventry, on his final day, to the Irish community in Coventry.
Céiliúradh (Celebration) was a special concert on the historic occasion of the first State Visit by the President of Ireland to the United Kingdom, President Michael D. Higgins was guest of honour at a special evening of music, spoken word and dance at the Royal Albert Hall on Thursday 10th April.