Ireland 2016 – Easter Rising Centenary Programme launched
The events of Easter 1916 are of seminal importance in Irish history. What began as a small uprising in the centre of Dublin on Easter Monday set in motion a series of developments which ultimately led to Irish independence.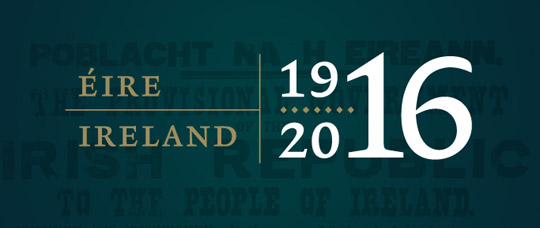 The Government of Ireland launched on 31 March a national and international program of events to commemorate the 100th anniversary of the 1916 Easter Rising and to remember those who fought and those who died for Irish independence.
The Centenary Programme will be a call to action for the people of Ireland, our Diaspora and friends of Ireland all around the world - to remember 1916 and that pivotal period in our history, to reflect on the past 100 years, and to re-imagine our future.
As part of Ireland 2016, the Embassy is developing a range of commemorative, community, cultural, public outreach and academic/historical events in 2016. Our programme will include events, based on five intersecting themes - remembering the past; reconciling and respecting all traditions; presenting Ireland to the world; imagining our future; and celebrating our achievements - drawing inspiration from the ideals of 1916 and the events of that time. As our plans develop, we will keep you updated.
You can read the Ambassador's reflections on remembering and understanding our past from a recent blog. This centenary is a chance to reflect on all that has happened, and to celebrate all that has been achieved, in Ireland and by Irish people in the last one hundred years. It is a timely moment to do so, particularly given recent positive events in Northern Ireland and in light of the progress that has been made on Ireland's recovery from the economic difficulties of the past number of years. This will also be an opportunity for us to celebrate Ireland today and, looking forward, to create a vision of how we would like to see Ireland evolve over the next 100 years.
If you are planning events to commemorate Ireland 2016 here in Britain, or you want to be kept updated of our plans here, contact the Embassy via the following email address 2016irishembassy(at)dfa(dot)ie
For further information on Ireland 2016, visit the website www.ireland.ie