Celebrating St. Patrick's Day on the London Underground
Celebrating St. Patrick's Day on the London Underground
Transport for London (TfL) and the Irish Embassy are bringing Irish music and poems to the London Underground to coincide with St. Patrick's Day festivities. This is the first time such a programme is taking place and coincides with London's St. Patrick's Day Parade and Festival.‌
Several Tube stations, including Tottenham Court Road and the aptly named Green Park, have performers showcasing Irish music, dance, poetry and the country's rich cultural heritage, while celebrating links with London. A special exhibition at Moorgate station will celebrate the contributions of Irish workers to the development of the Underground and London's rail networks.
Irish tunes on the Tube! Irish musicians, dancers, and poets – including many youth groups – will perform at selected busking pitches on 12 and 13 March, in conjunction with the GLA's St. Patrick's Day parade and celebration in central London.
Moorgate station display - A display of heritage images and information on Irish workers on the Underground, will be unveiled at an event on 14 March with TfL Commissioner Mike Brown, Ambassador Dan Mulhall and Irish members of staff at Transport for London.
Irish poetry at Covent Garden! Covent Garden Tube station will broadcast Irish poems, read by some a selection of Irish people in London, on St. Patrick's Day – March 17th itself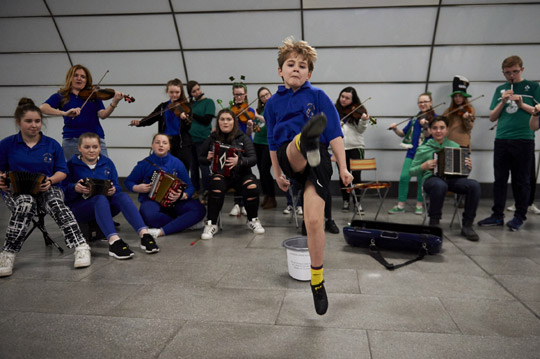 A call for buskers, led to an array of performers from across London including traditional musicians, dancers and the London Irish Pensioners Choir with some 20 acts participating. Performances were held during the day on Saturday 12th and Sunday 13th of March at Tottenham Court Road, Charing Cross, Green Park and Southwark stations.
A selection of Irish poems will be heard by passengers at Covent Garden station on St. Patrick's Day itself, including Ireland's Ambassador to Britain Dan Mulhall. Among the poems to be recited are those Irish poems that have been used in the past as part of the 'Poems on the Underground project'. Commuters may hear the work of Seamus Heaney, W.B. Yeats and Eavan Boland among others.
The Moorgate exhibition will look at not only the historical links but at contemporary connections. Not only do Irish people work on the Underground, Irish companies supply many of the goods and services needed to run the railway including precast concrete for rail and road bridges and the fleet management systems that help goods move from place to place. Moorgate station is 150 years old. It's one of the oldest stations on the TfL network, with the tracks built by navvies – the Irish workers who came over to England in the 1800s to do the hard work of digging tunnels.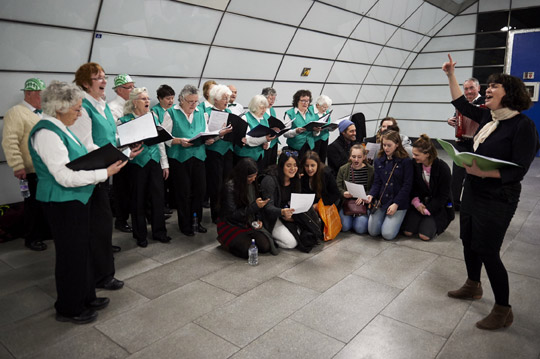 Follow our #StPatricksDay update on @IrelandEmbGB.