Bloomsday/Yeatsday 2017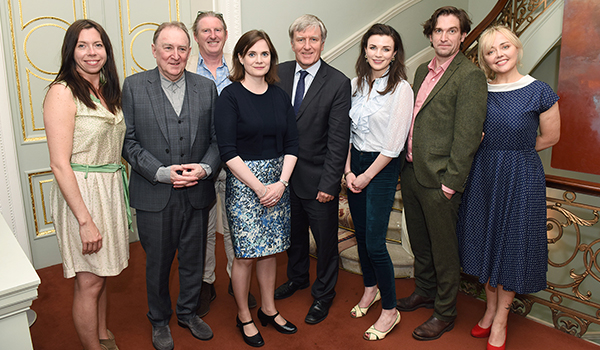 On Wednesday 14th June Ambassador Dan hosted a joint Bloomsday/Yeatsday breakfast in honour of both James Joyce's Ulysses, and the anniversary of the birth of WB Yeats.
The breakfast began on a musical note with Alison McKenna singing a beautiful rendition of 'Down by the Sally Gardens'. Then Ambassador Mulhall recited the 'Lament for Thomas McDonagh' by Francis Ledwidge, a contemporary of Yeats, who was killed in World War I, 100 years ago.
The Breakfast Scene from Ulysses was brought to life by Dearbhla Molloy before Alison McKenna returned for the second of her Yeats' performances of the morning, 'Easter 1916'. Ambassador Mulhall and Owen McDonnell read opposing scenes from the Cyclops chapter of Ulysses, both passages showcasing the wit and frivolity distinctive to Joyce's work.
Yeats was then brought firmly back to centre stage with a stunning 'Sailing to Byzantium' from Eileen Walsh. Adrian Dunbar's portrayal of Gerty McDowell's flirtation with Mr Bloom was received with much laughter from the assembled guests. Following on from this Aisling Bea recited Yeats' Cloths of Heaven and When You Are Old. Dermot Crowley read from another of Joyce's works - his scene from 'The Dead' effortlessly captured the heavy emotions of jealousy and grief contained within.
As in Ulysses, Angelina Ball perfectly brought the Embassy's Bloomsday/Yeatsday breakfast to a close with 'Molly Bloom's Soliloquy'.