Emigrant Services Advisory Committee
The Emigrant Services Advisory Committee (ESAC), formerly known as the Díon Committee, was established in 1984 to advise the Government on issues of concern to the Irish community in Britain. Apart from the Chairperson and Secretary, who are officers serving in the Embassy of Ireland in London, the Committee members serve in a voluntary capacity.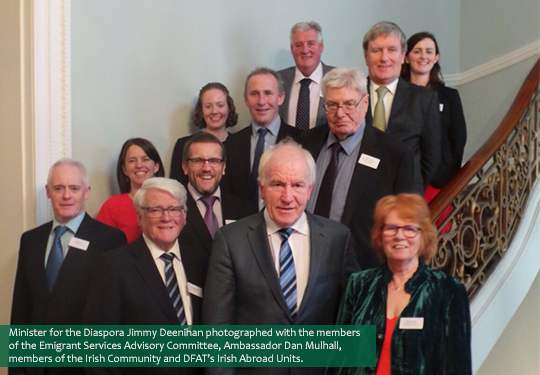 Its Terms of Reference, which were approved by the Oireachtas at the time it was established, are as follows:
to advise and report on emigrant welfare services;
to make recommendations on the provision of financial assistance towards the employment of professional workers dealing with the welfare needs of Irish people in Britain; and
to consider and make recommendations on specific questions at the request of the Minister for Foreign Affairs.
The primary function of the Committee is to make recommendations on applications from British-based organisations for funding from the Government's
Emigrant Support Programme
. The Committee meets three or four times a year, or as required, to assess applications and provide funding recommendations, which are then considered by Irish Abroad Unit before submission to the Minister for consideration. A members' register of interests is maintained.
The members of the Committee (2015-16) are:
Séamus McGarry
Former Chairperson of the Federation of Irish Societies and member of the Ireland Fund of Great Britain; Board of Irish Cultural Centre, Hammersmith.
Cllr. Sally Mulready
Former Secretary of the Federation of Irish Societies. Councillor in London Borough of Hackney. Founder of Irish Elderly Advice Network. Member of the Council of State.
Tony Cusack
Manager of Emerald Centre in Leicester.
Breege McDaid
Chief Executive - Irish Community Care Merseyside.
Tony Corcoran
Founder of the Tyneside Irish Festival and Secretary of the Tyneside Irish Centre.
John Gormley
Former President of the GAA in Britain.
Joe Browne (London)
A solicitor and former travellers project manager in Irish Chaplaincy. Chair of Irish Travellers Movement.
Frances Hendron
Chief Executive of Hendron Associates. Member of the Scottish Branch of the Irish Professional Network.
Sinead Crowley
Executive Director of UK branch of the Irish International Business Network (IIBN).
Bill Dee
Chief Executive of Listening Books. Former trustee of Irish in Britain. Member of the Independent Advisory Group to the City of London Police.
Helen O'Gorman
Former grants manager with Liverpool City Council.