Emigrant Services Advisory Committee
The Emigrant Services Advisory Committee (ESAC), formerly known as the Díon Committee, was established in 1984 to advise the Government on issues of concern to the Irish community in Britain. Apart from the Chairperson and Secretary, who are officers serving in the Embassy of Ireland in London, the Committee members serve in a voluntary capacity.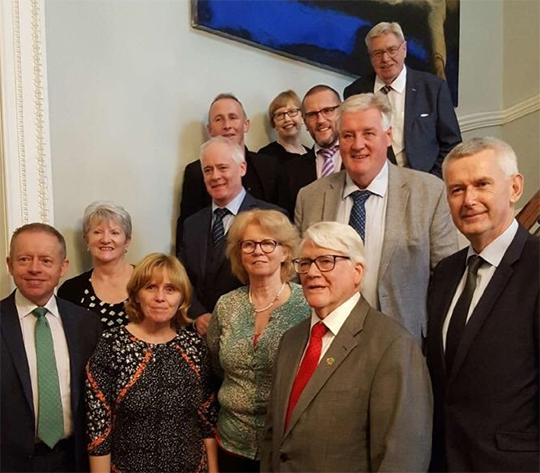 Minister of State for the Diaspora and International Development Ciarán Cannon photographed with members of the Emigrant Services Advisory Committee, and Ambassador Adrian O'Neill
Its Terms of Reference, which were approved by the Oireachtas at the time it was established, are as follows:
to advise and report on emigrant welfare services;
to make recommendations on the provision of financial assistance towards the employment of professional workers dealing with the welfare needs of Irish people in Britain; and
to consider and make recommendations on specific questions at the request of the Minister for Foreign Affairs.
The primary function of the Committee is to make recommendations on applications from British-based organisations for funding from the Government's
Emigrant Support Programme
. The Committee meets three or four times a year, or as required, to assess applications and provide funding recommendations, which are then considered by Irish Abroad Unit before submission to the Minister for consideration. A members' register of interests is maintained.
The members of the Committee (2017-18) are:
Séamus McGarry
Former Chairperson of the Federation of Irish Societies and member of the Ireland Fund of Great Britain; and Board of Irish Cultural Centre, Hammersmith. Seamus is a member since the committee founded in 1985. He is also patron of Irish Heritage London.

Cllr. Sally Mulready
Former Secretary of the Federation of Irish Societies. Councillor in London Borough of Hackney. Founder of Irish Elderly Advice Network. She is a member of the Council of State. Sally was born in a mother-and-baby home, and spent her childhood in an industrial school in Ireland. In her late teens, she moved to London to be reunited with her mother. Sally was involved in international issues such as the anti-apartheid movement, the Chile solidarity movement, the Northern Irish civil rights movement and in the 1980s, with the Miner's strikes.

Tony Cusack
Born in Leicester to parents from Co Mayo and celebrated his Irish culture through music, dance, gaelic sports and visiting Ireland. He became involved in community based initiatives and worked for the voluntary sector for 35 years with vulnerable young people, elderly and disabled people. Tony is a professional youth and community development worker. Tony joined The Emerald Centre 20 years ago when he played gaelic football on the site where the Centre is now located. He is currently the Centre Manager of Emerald Centre in Leicester.

Breege McDaid
Chief Executive - Irish Community Care Merseyside responding to the health, welfare and social care needs of the Irish and Irish Traveller communities. Born in Donegal and graduated from UCD in 1983 and moved to the UK in 1986. Breege has been instrumental in developing and sustaining a range of professional and quality assured services to meet the needs of more marginalised and excluded members of our communities.

Tony Corcoran
Founder of the Tyneside Irish Festival and Secretary of the Tyneside Irish Centre. Tony was born in Lancashire in 1941 and owes his Irish musical heritage to his father's County Mayo origins. After Durham University he married in Newcastle upon Tyne and worked in the region's FE colleges becoming a Principal Lecturer and later an external examiner in Performing Arts at HE institutions. A founding member of Tyneside CCE in 1972 he taught fiddle and other instruments for over 30 years and in 1991 gained the TTCT (Teastas Teagaisc Ceolta Tire) – the teaching certificate awarded by Comhaltas and the DOE. In 1987 he founded the Tyneside Irish Festival and in 1993 the Tyneside Irish Cultural Society.

John Gormley
Former President of the GAA in Britain. Former Chair of All Britain Competition. Born in Leitrim and moved to UK after finishing school. John is a member of St. Dympna's GAA in Luton which will be celebrating its 60th anniversary in February 2018. He is a member of the Board of Hertfordshire GAA. John is heavily involved in the Irish Community in Luton.

Joe Browne
Originally from Tipperary, Joe is a solicitor and former traveller's project manager in Irish Chaplaincy. Chairperson of Irish Travellers Movement. Joe is also Treasurer of Immigrant Counselling & Physiotherapy (ICAP).

Sinead Crowley
Previously Executive Director of UK branch of the Irish International Business Network (IIBN). Sinead also spends 1-2 days per week working as Fundraising & Events Co-ordinator of Immigrant Counselling & Physiotherapy (ICAP). Prior to this Sinead worked for 14 years with a Regional Development Agency in Ireland focused on strategic planning and project management.

Bill Dee
Chief Executive of Listening Books. He is a former trustee of Irish in Britain. Bill is Independent Person to the Standards Committee, London Borough of Southwark and a former member of the Independent Advisory Group to the City of London Police. In addition Bill serves in a number of advisory roles across the Public and Third sectors. He has also served as a Trustee or advisor to several charities. Bill was elected a Fellow of the Royal Society of Arts in 2005 and is also a Fellow of the Chartered Management Institute. He was a Finalist at the Director of the Year Awards in 2013 (London and the South East) in the Public and Third Sector category.

Mary Tilki
Former Chair of Irish in Britain 2002-2015. Interim Irish in Britain CEO until May 2017. Former senior lecturer at the University of Middlesex. Has done extensive research on ethnic health inequalities and in particular, the health needs of Irish people in Britain. She is co-founder of Cuimhne, the Irish Memory Loss Alliance. Recipient of the Presidential award 2013.

Niamh O'Donnell-Keenan
Former Finance Director of the Telegraph group. She is a Chartered accountant and former Vice-Chairman of the Chartered Accountants of Ireland London branch. Previously Niamh was Chair and current trustee of Proms at St Jude's, a registered charity. Former board member of the Irish Women's Survivor Support Network (UK).

Grainne McMenamin
BA MBA Marketing. Has worked for international companies in a number of countries and is now based in Scotland. Established an Irish language club with Conradh Na Gaeilge in Edinburgh in 2014. Grainne has previously work in Philadelphia, Germany and New Zealand before returning to Ireland in 2005 to work for 5 years. Grainne is currently on the board of Irish Business Network Scotland and works as a Marketing Consultant with various Companies.