New Tourism Ireland site launched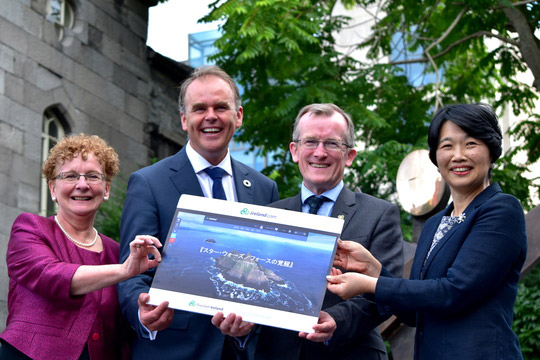 アイルランド政府観光庁 公式日本語ウェブサイト新規オープン
http://www.ireland.com/ja-jp/
駐日アイルランド大使館では、日本の旅行者の方を対象とした、アイルランド政府観光庁の公式日本語ウェブサイトが新たに開設されたことを発表いたします。
アイルランド旅行をお考えの方へ必要な情報をまとめてご提供するウェブサイトがオープンしました。美しいアイルランドの景色をご紹介するとともに、旅行者向けの実用的な情報、アイルランドで楽しめるアクティビティや様々な見どころについての情報を提供します。また、西海岸の絶景ドライブルート『ワイルド・アトランティック・ウェイ』など、観光にお勧めのモデルコースも掲載しています。
このウェブサイトの開設記念式典が8月29日にダブリンで行われ、ジョー・マクヒュー移民・国際開発担当大臣、ナイアル・ギボンズアイルランド政府観光庁長官、三好真理駐アイルランド日本国大使、アン・バリントン駐日アイルランド大使が出席しました。
ウェブサイトの開設を歓迎し、マクヒュー大臣は次のように述べました。
「アイルランド政府観光庁の新しい公式日本語サイトは、より多くの日本の方々にアイルランドへ関心を持っていただきたいという思いから作られました。アイルランドの知名度を高めるとともに、両国関係の更なる強化に寄与するものです。この点において、このたびのウェブサイト開設は非常にタイムリーだと言えます。なぜなら、来年2017年にアイルランドと日本は外交関係樹立60周年を迎えるからです。」
アン・バリントン駐日アイルランド大使は次のように述べました。
「アイルランドと日本の間には、文化や経済において活発な交流があり、このウェブサイトが、更に多くの日本の方々にアイルランドへの旅行をご検討いただけるきっかけとなることを確信しております。両国の外交関係樹立60周年を来年に控えた今、このウェブサイトを発表できることを喜ばしく思います。」
アイルランド政府観光庁 公式日本語サイト: http://www.ireland.com/ja-jp/
以上
注釈
• 2015年、アイルランドは海外から790万人の観光客を迎えました。
• アイルランド政府観光庁(Tourism Ireland)は、アイルランド島全体(アイルランドと、英国の北アイルランド) の観光について海外向けにプロモーションを行う政府機関です。
• 「ワイルド・アトランティック・ウェイ」は、アイルランドの手付かずの自然、壮大な景色を楽しめる、個人旅行に最適な観光ルートです。http://www.wildatlanticway.com
• アイルランド‐日本外交関係樹立60周年記念行事に関しては、駐日アイルランド大使館のウェブサイトで随時発表します。www.dfa.ie/japan
New Tourism Ireland site launched
http://www.ireland.com/ja-jp/
The Embassy of Ireland in Japan is delighted to announce the launch of a new tourism website aimed at attracting more Japanese tourists to Ireland.
The site will be a one-stop-shop for anyone considering a visit to Ireland. As well as exhibiting the stunning Irish scenery and providing tips and information for tourists, the website also has a number of useful guides about the wide range of activities and interests on offer. The site also features major newly established tourism itineraries, such as the Wild Atlantic Way, a hugely popular coastal route along Ireland's west coast.
The Minister for the Diaspora and International Development, Mr. Joe McHugh TD, along with the CEO of Tourism Ireland, Mr. Niall Gibbons, launched the new Tourism Ireland Japanese language website in Dublin on 29 August.
The Ambassador of Japan to Ireland, H.E. Mari Miyoshi, and the Ambassador of Ireland to Japan, H.E. Anne Barrington, were also in attendance.
Welcoming the development of the new Japanese language website, Minister McHugh said:
"The new Tourism Ireland Japanese Language website has been designed to help build greater awareness of Ireland in Japan. In addition to enhancing the overall visibility of Ireland there, it will contribute to a strengthening and deepening of our bilateral relations. In this regard, the launch of the website is very timely as 2017 marks the 60th anniversary of diplomatic relations between Ireland and Japan."
Also commenting on the new site, Ambassador of Ireland, Anne Barrington added:
"Ireland and Japan have many thriving cultural and economic links, I am convinced that this will encourage more and more Japanese people to consider visiting Ireland. I am particularly delighted that this launch coincides with our preparation for celebrating 60 years of diplomatic ties with Japan next year".
The new site can be seen at: http://www.ireland.com/ja-jp/
END
Notes
Ireland welcomed 7.9 million tourists in 2015.
Tourism Ireland is the Irish government organisation responsible for promoting the island of Ireland as a tourism destination overseas.
The Wild Atlantic Way is perfect for independent travellers, especially visitors from Japan who would like to enjoy spectacular views of Ireland's unspoilt natural scenery: http://www.wildatlanticway.com
For further information on the 60th anniversary of Ireland-Japan Diplomatic relations being celebrated in 2017, see www.dfa.ie/japan