Visit by Minister John Halligan T.D. 1-5 October 2016
Ireland's Minister for Training, Skills and Innovation, Mr. John Halligan T.D., visited Japan from 1-5 October to participate in the Science and Technology in Society (STS) Forum in Kyoto and promote Ireland-Japan cooperation in the Science and Technology area.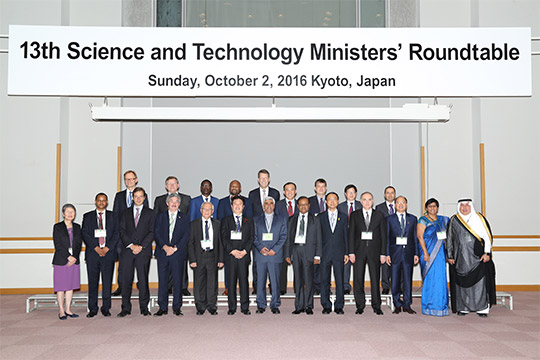 During his visit in October, Minister Halligan attended the 13th Annual Meeting of the STS Forum in Kyoto. He briefed Japanese and international interlocutors on the progress and priorities of Irish Research and Development. During the Forum the Minister addressed international counterparts at the Science and Technology Ministers' Countable Meeting.
Minister Halligan also addressed the EU-Japan Science Policy Forum and had meetings with key policy-makers from leading Japanese research-related Government Agencies, including the Council for Science, Technology and Innovation (CSTI) and the Japan Society for the Promotion of Science (JSPS).
The Minister went on to meet with leading Japanese companies based in the Kansai region which have research interests in Ireland addressed members of Kankeiren and met a number of Irish and Japanese companies with business links to Ireland at an event hosted by the Ireland Japan Chamber of Commerce.
The visit was a unique opportunity to deepen the dynamic and exciting links between Ireland and Japan in the field of scientific research and development. It was also an opportunity to highlight the vibrant Ireland-Japan business links in the Kansai region.