Japanese-Irish Relations
Japanese-Irish Relations
The Embassy plays an important role in developing and sustaining the strong political, economic and cultural relations between Ireland and Japan.
An Expanding Partnership
Japan is Ireland's 11th largest trading partner and the largest source of FDI into Ireland from Asia. In 2016, Ireland exported over €7.7 billion worth of goods and services to Japan, principally in the agri-food, pharma/medical, ICT and financial services areas, while importing over €2.4 billion worth of goods and services, meaning that Ireland maintains a trade surplus with Japan.
For our size, Ireland is quite well known in Japan. Irish culture, from Guinness to Enya to Irish traditional music, is very popular. Over 1,300 Irish people live in Japan, a large number relative to our population, and many have married and have families here.
The events held in Japan around St. Patrick's Day, including the many parades, the I Love Ireland Festival, and the Emerald Ball, are very popular among Japanese people. Further information on the Ireland Festival events is available elsewhere on this website.
Political relations between Ireland and Japan are excellent. Prime Minister Abe visited Dublin in June 2013 and Taoiseach Enda Kenny visited Japan in December 2013. During that visit, the two Prime Ministers agreed a Joint Declaration entitled a Partnership for Innovation and Growth. This Declaration provides the roadmap for Ireland-Japan relations and sets out the vision of both governments on how to strengthen our bilateral relationship. The Declaration identifies 5 key sectors that offer real potential to expand bilateral trade: agri-food, financial services, ICT, life sciences and clean technologies, and education.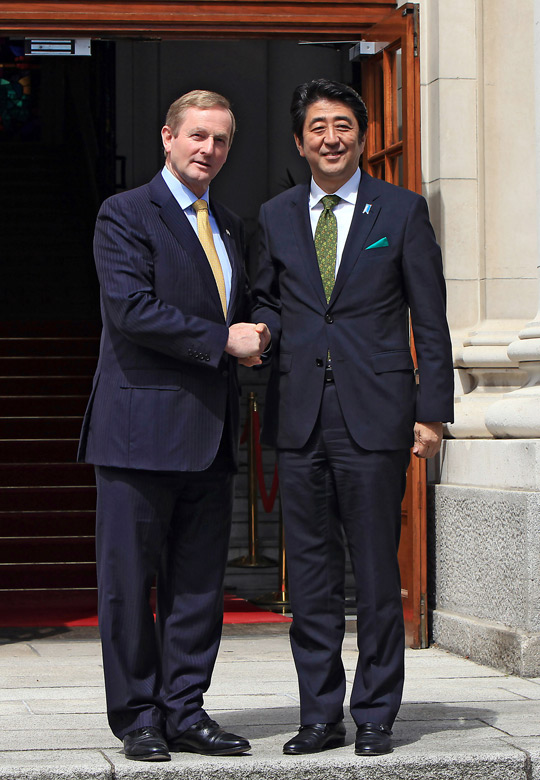 The 60th Anniversary of Irish-Japanese diplomatic relations was celebrated in 2017, and an extensive programme of events took place both in Ireland and Japan. Further information on the 60th Anniversary celebrations can be found here.