F91 Dudelange – UCD AFC
F91 Dudelange – UCD AFC (UEFA Europa League - First Qualifying Round) at the Football Stadium in Dudelange (Luxembourg)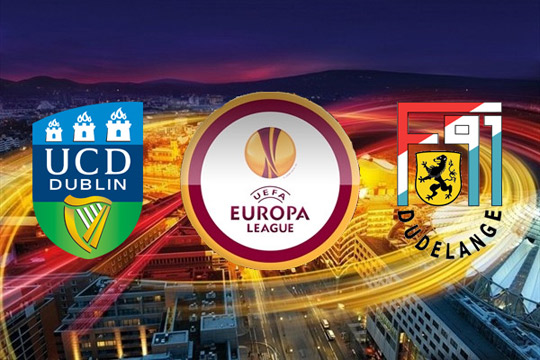 UCD AFC will face F91 Dudelange from Luxembourg in the First Qualifying Round of the UEFA Europa League on Thursday 9th July at Stade Jos Nosbaum, Dudelange, Luxembourg. Kick off time is at 18.00.
UCD qualified for the Europa League after Ireland was granted an extra place after finishing third in UEFA's 2014-15 Fair Play table. This will be UCD's third to compete in Europe having previously competed in Europe twice before, however this will be their first time competing in the UEFA Europa League.
F91 Dudelange qualified for the Europa League as 3rd of Luxembourg in 2014-2015. The club which was formed in 1991 from the clubs Alliance Dudelange, Stade Dudelange and US Dudelange, has a good history in European competition. Since its foundation they won the Luxembourg National Division title 11 times. It's the first time in their European participation that they face an Irish opponent.
More information is available on the following websites:
University College Dublin Association Football Club
DON'T KEEP THIS INFORMATION TO YOURSELF !!!
SPREAD THE WORD ... TELL YOUR FRIENDS ... BRING THEM ALONG ... AND LET'S GIVE THIS GROUND A GREAT IRISH ATMOSPHERE!