Greening of the Hôtel de Ville de Luxembourg for St Patrick's Day 2015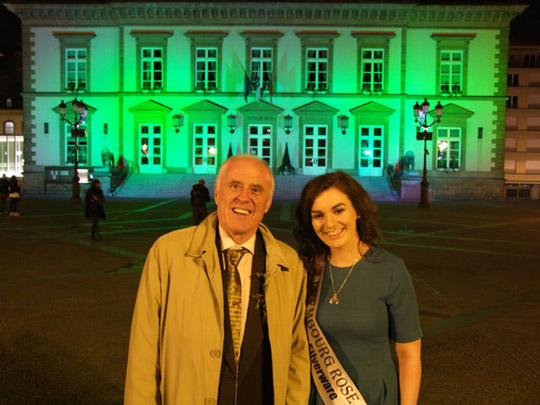 The distinctive, iconic Hôtel de Ville in Place Guillaume II, at the heart of Luxembourg's city centre, went green on St Patrick's Day as part of Tourism Ireland's Global Greening 2015.
"I am delighted that again this year a landmark building in Luxembourg formed part of the Global Greening. The Hôtel de Ville de Luxembourg joined over 100 other iconic sites around the world, among them the Pyramids of Giza, the Great Wall of China, the Leaning Tower of Pisa, Niagara Falls, Sydney Opera House, Table Mountain in South Africa and the Grande Place in Brussels, in 'going green' this year", said Ireland's Ambassador to Luxembourg, Mr Peadar Carpenter.
"This Greening in Luxembourg could not have taken place without the approval and assistance of the Bourgmestre, Mme Lydie Polfer. I take this opportunity to thank Madame Polfer and her colleagues at the Ville de Luxembourg for their enthusiastic support for our initiative. Thanks also to Tourism Ireland for their invaluable support, and of course Tourism Ireland extends a warm welcome to you to visit Ireland in 2015", said Ambassador Carpenter.
"Our Greening in Luxembourg, like each and every Greening around the World, is an expression of friendship and partnership between our peoples and our countries", added the Ambassador.
See the highlights of Tourism Ireland's Global Greening Campaign 2015, featuring Luxembourg (amongst other places)