St Brigid's Day Competition
News
31 January 2022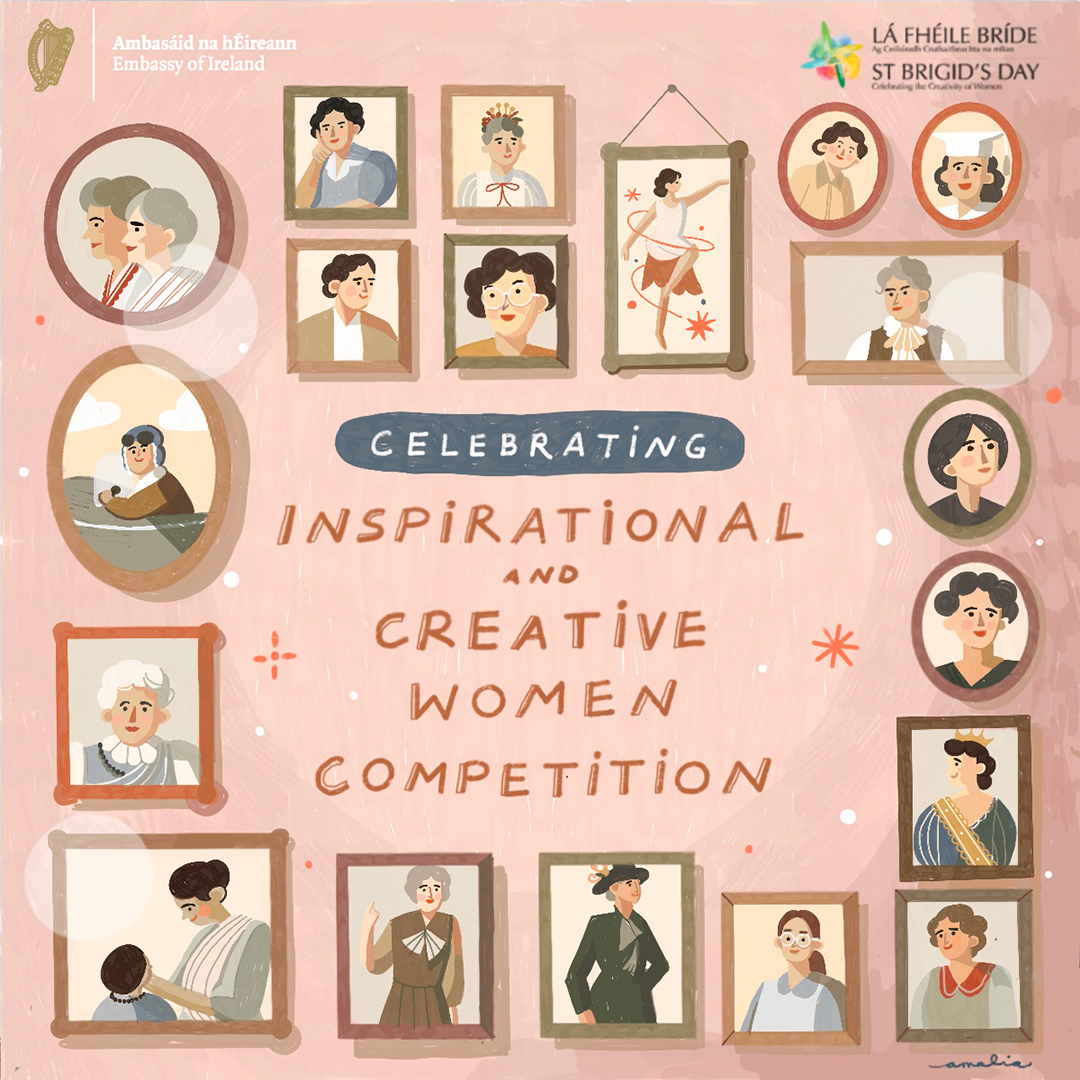 St Brigids Day Poster
On St Brigid's Day, we celebrate the achievements of trailblazing and inspiring women who are making their mark across a range of fields. Is there a woman you know personally who is inspiring or creative in some way? Share her story with us on social media to participate in this regional St Brigid's Day initiative and win a pair of flight tickets to Ireland! We also have hampers featuring attractive goodies from various talented Irish women to be won locally!
1) Entries must be submitted by 11.59PM (local time) on 20 Feb
2) Accounts must be public and following us
3) Tag your posts with #SBDsea2022 #SBDmy2022 and @IrlEmbMalaysia to participate in this competition
4) You may use a video or a photo with captions to tell your nominee's story. Why is she so inspiring or creative to you? Stories and reels are not accepted as entries!
5) Video length must not exceed 60 seconds
6) The woman nominated must be someone you know personally
7) All entries must be submitted in English
8) Only one entry is allowed per participant
9) You must also be a resident in Malaysia in order to be eligible for this competition.
10) Upon participation, you consent to us using your entry for embassy communication activities
11) The best 2 entries (one finalist and runner-up) selected at the embassy's discretion will each receive a hamper featuring attractive goodies from talented and creative Irish women
12) The finalist will enter a poll with the other finalists (6 total) from the region. The most popular entry selected by the public will win a pair of economy air fare flight tickets to Ireland
13) Embassies will not be in a position to cover any additional expenses beyond the cost of the 2x economy class air fares to Ireland. All additional costs, such as but not limited to accommodation, expenses, visa fees, COVID-19 testing, meals, etc. are to be borne by the participant
14) The winning participant must ensure they meet all entry requirements for Ireland (this includes visa and vaccination requirements)
15) Embassies will not be in a position to assist with visa application, the winning entry must ensure they meet the requirements for entry to Ireland, which can be found here: https://www.irishimmigration.ie/