Ambassador Orla Tunney
Ambassador Orla Tunney took up duty as Ambassador of Ireland to Portugal in September 2015. She is also Ambassador, on a non-resident basis, to the Kingdom of Morocco.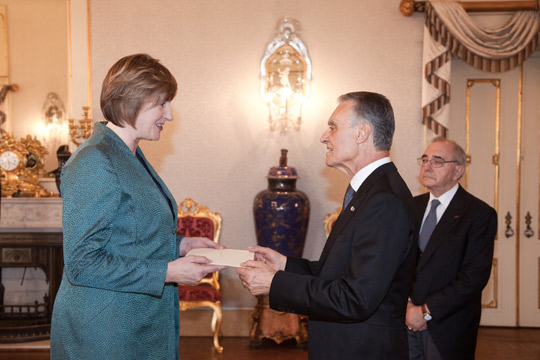 Welcome message from Ambassador Tunney
Welcome to the official website of the Embassy of Ireland in Portugal.
It is a great personal and professional honour to represent Ireland as Ambassador to Portugal and to the Kingdom of Morocco.
Ireland's links to Portugal are vibrant and long-standing. From medieval times, strong commercial and trading links flourished between Ireland and Portuguese ports, reflected also in the enduring cultural, educational and intellectual bonds between the people of our two Atlantic nations.
And, in recent decades, membership of the European Union has further enhanced the depth of cooperation and of friendship between our two countries.
Today, the friendship between Irish and Portuguese people is warmer than ever. Portugal is the second most popular destination for Irish tourists, with some 750,000 visiting annually. An important part of the Embassy's work is therefore to assist Irish citizens if they encounter unexpected difficulties while in Portugal.
My aim is to strengthen and enhance Ireland's relationships with Portugal and Morocco in the economic, political and cultural sectors and to ensure continued support for Irish citizens in both countries.
Promoting the economy is a key priority for us, and trade generates around €600 million annually. The Embassy, together with IDA Ireland, Enterprise Ireland, Bord Bia (the Irish Food Board) and Tourism Ireland - work closely to ensure that our bilateral trade will continue to grow.
However, we are also conscious that the links which bind our countries transcend the purely economic, so the Embassy has developed a varied programme of events to celebrate Irish and Portuguese cultural links, in close cooperation with the Irish Association and with St. Patrick's Society in the Algarve.
If you would like to register with the Embassy, and to be added to our Embassy mailing list for news of events and initiatives, please contact us.
I look forward to meeting you at one of these events in the future.
Thank you for visiting our website.
Orla Tunney
Ambassador
---
Fáilte chuig suíomh gréasáin oifigiúil Ambasáid na hÉireann sa Phortaingéil.
Is mór an onóir dom é, ar bhonn pearsanta agus ar bhonn gairmiúil araon, ionadaíocht a dhéanamh ar Éirinn i gcáil an Ambasadóra ainmnithe chun na Portaingéile agus chun Ríocht Mharacó.
Tá ceangal bríomhar ag Éirinn leis an bPortaingéil le fada an lá. Ó na meánaoiseanna i leith, bhí rath agus bláth ar na naisc láidre thráchtála agus thrádála idir Éire agus calafoirt na Portaingéile, rud a léirítear freisin sa cheangal a mhaireann beo fós idir muintir an dá náisiún Atlantach seo againne i dtaobh an chultúir, an oideachais agus an léinn.
Agus, le blianta beaga anuas, tá ár mballraíocht san Aontas Eorpach tar éis dlús eile fós a chur leis an gcomhar agus an cairdeas idir an dá thír seo.
Is croíúla ná riamh é an cairdeas idir muintir na hÉireann agus muintir na Portaingéile anois. Tá an Phortaingéil ar an dara ceann scríbe is mó éilimh i measc na dturasóirí Éireannacha, agus tugann timpeall is 750,000 Éireannach cuairt ar an bPortaingéil gach bliain. Dá bhrí sin, is cuid thábhachtach d'obair na hAmbasáide é cabhrú le saoránaigh Éireannacha má bhíonn aon deacrachtaí gan coinne acu agus iad sa Phortaingéil.
Tá sé ina chuspóir agam neartú a dhéanamh ar chaidreamh na hÉireann leis an bPortaingéil agus le Maracó i réimsí an gheilleagair, na polaitíochta agus an chultúir, agus a chinntiú go mbeidh tacaíocht leanúnach ar fáil do shaoránaigh Éireannacha sa dá thír.
Príomhthosaíocht dár gcuid is ea an geilleagar a chur chun cinn, agus gintear thart ar €600 milliún in aghaidh na bliana de bharr na trádála eadrainn. Bíonn an Ambasáid ag obair i ndlúthpháirt le GFT Éireann, Fiontraíocht Éireann, an Bord Bia agus Turasóireacht Éireann lena chinntiú go mairfidh an rath atá ar an trádáil dhéthaobhach eadrainn.
Is maith mar is eol dúinn, áfach, gur doimhne iad na naisc lena gceanglaítear ár dtíortha ná naisc gheilleagracha amháin, agus mar sin tá clár éagsúil imeachtaí ullmhaithe ag an Ambasáid chun ceiliúradh a dhéanamh ar na naisc chultúir idir Éire agus an Phortaingéil, i ndlúthchomhar le Cumann na hÉireann agus le Cumann Naomh Pádraig san Algarve.
Más mian leat d'ainm a chlárú leis an Ambasáid, agus a bheith ar liosta seoltaí na hAmbasáide ionas go gcuirfí nuacht chugat faoi imeachtaí agus faoi thionscnaimh, déan teagmháil linn le do thoil.
Táim ag tnúth le bualadh leat ag ceann de na himeachtaí sin amach anseo.
Go raibh maith agat as cuairt a thabhairt ar an suíomh seo.
Orla Tunney
Ambasadóir na hÉireann