Ambassador Cooney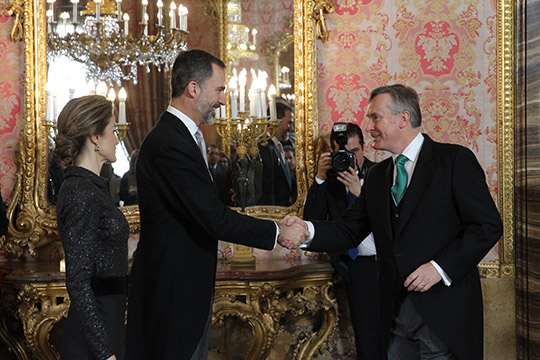 Ambassador Cooney arrived in Spain in September 2014 to take up the post of Ambassador of Ireland after serving for five years as Secretary General of the Department of Foreign Affairs and Trade. He was previously Ambassador to the United Kingdom and, before that, Ambassador and Permanent Representative to the United Nations in New York. He also served as non-resident Ambassador to the Holy See between 2012 and 2014.
Ambassador Cooney joined the Irish Civil Service in 1976 after graduating in politics and history from Keele University in Staffordshire, England. He worked in the Department of Agriculture and the Department of Public Service, before joining the Department of Foreign Affairs in 1979. In addition to his ambassadorial postings he served in Rome (Holy See), Vienna, Brussels and Paris. He also worked in several different roles in the Department's headquarters, including as a member of the Irish Government team for the negotiation of the Good Friday agreement and as the Department's Political Director.
Ambassador Cooney was born in London in 1954 and took his nationality and county affiliation from his father, who emigrated to Britain from County Wexford in the late 1940's. He is married to Co. Sligo-born Geraldine O'Kelly. They have four children.
Welcome message from the Ambassador
It is a pleasure and a privilege to represent Ireland here in Spain, two countries with strong and varied ties, both historic and contemporary.
In many ways, Ireland and Spain enjoy a particularly unique and special relationship, stretching as it does right back from the very earliest prehistoric migrations to Ireland from Spain's northern coast, up to the vibrant and contemporary ties of the present day. Indeed, there has long been a steady flow of Irish visitors to Spanish shores, from the early pilgrims on the Camino de Santiago, through to the Flight of the Earls in the seventeenth and eighteenth centuries, a period which saw countless Irish people find sanctuary and refuge in Spain, with many of these assuming important positions in Spanish political, cultural and military life.
Today, the friendship between the peoples of Ireland and Spain is warmer than ever, with Irish people making some 1.3 million visits to Spain each year. An important part of the Embassy's work is therefore to assist Irish citizens if they encounter unexpected difficulties while in Spain. We are greatly assisted by our network of 10 Honorary Consuls in mainland Spain and the islands to provide an effective consular service to Irish citizens in Spain.
Ireland also welcomes many Spanish visitors, including thousands of English-language students who add to the brightness of the Irish summer. Overall, the trade links between Ireland and Spain generate approximately €8 billion annually, with Spain continuing to be one of Ireland's largest export markets. The Embassy, together with our partners in Ireland House Madrid - Enterprise Ireland, Bord Bia (the Irish Food Board) and Tourism Ireland - is determined to ensure that this important trade relationship will continue to grow and flourish. The Embassy also works closely with the Spanish-Irish Business network to promote business links between Ireland and Spain.
While promoting the economy is a key priority for us, we are always conscious that the links that bind countries together are much more than purely economic. Each year the Embassy therefore develops a varied programme of events to celebrate Irish and Spanish cultural links. I look forward to meeting you at one of these occasions in the future.
Our two countries have benefitted enormously from our common membership of the European Union. We continue to work together in solidarity with one another and with our fellow Member States to ensure a sustainable economic recovery in both countries and in the Union as a whole.
Finally, we are very keen to keep in touch with the Irish community in Spain and with friends of Ireland in Spain – if you would like to be added to our Embassy mailing list for news of events and initiatives, please contact us.
David Cooney
Ambassador of Ireland
---
Teachtaireacht fáilte ón Ambasadóir
Is mór an pléisiúr agus an phribhléid dom a bheith i m'ionadaí ar son na hÉireann anseo sa Spáinn. Dhá thír is ea muid a bhfuil ceangal láidir, éagsúil eadrainn, i dtaobh na staire agus i saol na linne seo.
Is iomaí bealach ina bhfuil caidreamh ar leith idir Éire agus an Spáinn, caidreamh a théann siar chomh fada leis an imirce is luaithe go hÉirinn, sa ré réamhstairiúil, ó chósta thuaidh na Spáinne, agus ar aghaidh trí na blianta go dtí an ceangal bríomhar, comhaimseartha atá eadrainn anois. Go deimhin, tá sruth seasta cuairteoirí ag triail ar an Spáinn ó Éirinn le fada an lá, ó na hoilithrigh fadó ar an Camino de Santiago go dtí Imeacht na nIarlaí sa seachtú haois déag agus san ochtú haois déag, tréimhse inar bhain líon mór de mhuintir na hÉireann tearmann amach sa Spáinn. D'fhóin a lán de na daoine sin i bpoist thábhachtacha i saol polaitiúil, cultúrtha agus míleata na Spáinne ina dhiaidh sin.
Sa lá atá inniu ann, is croíúla ná riamh é an cairdeas idir muintir na hÉireann agus muintir na Spáinne, agus tugann Éireannaigh timpeall is 1.3 milliún cuairt ar an Spáinn gach bliain. Dá bhrí sin, is cuid thábhachtach d'obair na hAmbasáide é cabhrú le saoránaigh Éireannacha má bhíonn aon deacrachtaí gan choinne acu agus iad sa Spáinn. Is mór an cúnamh a fhaighimid ón líonra de dheichniúr Consal Oinigh atá againn i mórthír na Spáinne agus ar na hoileáin i dtaobh seirbhís chonsalachta éifeachtach a chur ar fáil do shaoránaigh na hÉireann sa Spáinn.
Cuireann Éire fáilte roimh a lán cuairteoirí ón Spáinn freisin, lena n-áirítear na mílte mac léinn a bhíonn ag gabháil don Bhéarla agus a chuireann loinnir bhreise i ngile an tsamhraidh in Éirinn. Tríd is tríd, gineann na naisc thrádála idir Éire agus an Spáinn thart ar €8 billiún in aghaidh na bliana, agus tá an Spáinn fós ar cheann de na margaí onnmhairithe is mó de chuid na hÉireann. Tá an Ambasáid, mar aon lenár gcomhpháirtithe in Áras Éireann i Maidrid, Fiontraíocht Éireann, an Bord Bia agus Turasóireacht Éireann, meáite ar a chinntiú go leanfaidh an caidreamh trádála tábhachtach sin eadrainn ar aghaidh ag fás agus ag forbairt. Oibríonn an Ambasáid i ndlúthpháirt freisin le Líonra Gnó na Spáinne agus na hÉireann chun naisc ghnó a chothú idir Éire agus an Spáinn.
Cé go bhfuil cur chun cinn an gheilleagair ina phríomhthosaíocht againn, is maith mar is eol dúinn gur mó iad na naisc lena gceanglaítear ár dtíortha le chéile ná an geilleagar amháin. Gach bliain, dá bhrí sin, ullmhaíonn an Ambasáid clár éagsúil imeachtaí chun an ceangal cultúir idir Éire agus an Spáinn a cheiliúradh. Táim ag tnúth le bualadh leat ag ceann de na himeachtaí sin amach anseo.
Is mór an tairbhe a bhain an dá thír seo againne as ár mballraíocht san Aontas Eorpach. Leanaimid ar aghaidh ag obair le chéile, i ndlúthpháirtíocht lena chéile agus leis na Ballstáit eile, chun téarnamh geilleagrach inbhuanaithe a áirithiú sa dá thír agus san Aontas ina iomláine.
Mar fhocal scoir, tá an-fhonn orainn a bheith i dteagmháil leis an bpobal Éireannach sa Spáinn agus le cairde na hÉireann sa Spáinn – más mian leat go gcuirfí d'ainm le liosta seoltaí na hAmbasáide ionas go bhfaighfeá scéala faoi imeachtaí agus faoi thionscnaimh, déan teagmháil linn le do thoil.
David Cooney
Ambasadóir na hÉireann