The Embassy's History
Find out about the Embassy's history, including the establishment of diplomatic relations and some of our former Ambassadors.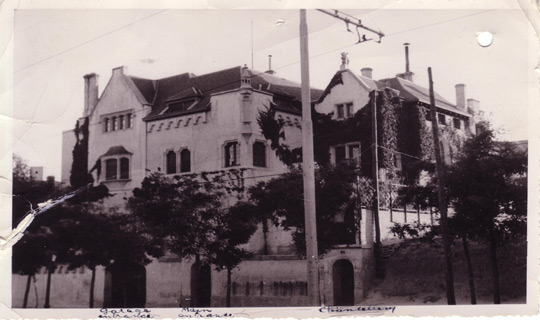 Former site of the Embassy on Calle Zurbano, Madrid, in a photo taken c.1935
Diplomatic relations between Ireland and Spain
Leopold H. Kerney presented his credentials as Ireland's first Envoy Extraordinary and Minister Plenipotentiary to the President of the Spanish Republic, Mr Alcalá Zamora, in September 1935. According to Mr Kerney's report of their meeting, they spoke of the Spanish families of Irish origin, such as the O'Donnell and O'Shea families, and exchanged good wishes. Civil war broke out in Spain the summer of 1936, and in August 1936 the legation in Madrid was temporarily closed, with L. H. Kerney basing himself in St Jean de Luz, on the French border with Spain, for the duration of the war. Kerney presented credentials in Burgos in April 1939. In October 1950 Leo McCauley presented his credentials as Ireland's first Ambassador to Spain, as Ireland had in 1949 left the commonwealth and declared itself a republic. Ireland's first Ambassador to Spain following the democratic transition was Denis Holmes, who presented credentials to King Juan Carlos I in Madrid in 1978.
The Documents on Irish Foreign Policy series provides a fascinating insight into relations between Spain and Ireland, particularly in the period leading up to and during the Spanish Civil War. Much of this invaluable archive material is now available free online.
Previous Irish Ambassadors to Spain
| | | |
| --- | --- | --- |
| Name | Title | Years served in Mission |
| L.H. Kerney | Envoy Extraordinary and Minister Plenipotentiary | 1935 - 1946 |
| John A. Belton | Envoy Extraordinary and Minister Plenipotentiary | 1946 - 1949 |
| Leo McCauley | Ambassador | 1949 - 1955 |
| Michael (Andrew Lysaght) Rynne | Ambassador | 1955 -1962 |
| Timothy J. Horan | Ambassador | 1962 - 1967 |
| J.W. Lennon | Ambassador | 1967 - 1970 |
| Brian Gallagher | Ambassador | 1970 - 1974 |
| Charles Whelan | Ambassador | 1974 - 1978 |
| Denis Holmes | Ambassador | 1978 - 1983 |
| Gearóid O Clérigh | Ambassador | 1983 - 1988 |
| Patrick Walshe | Ambassador | 1988 - 1994 |
| Richard Ryan | Ambassador | 1994 - 1998 |
| Pádraig Murphy | Ambassador | 1998 - 2001 |
| Declan O'Donovan | Ambassador | 2001 - 2005 |
| Peter Gunning | Ambassador | 2005 - 2009 |
| Justin Harman | Ambassador | 2009 - 2014 |
| David Cooney | Ambassador | 2014 - 2017 |
| Síle Maguire | Ambassador | 2017 - Present |