Development Cooperation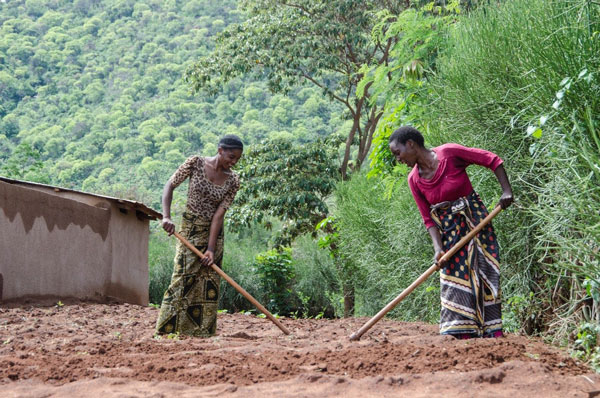 Ireland has a long and enduring partnership with Tanzania. It is grounded in a shared history of colonialism and years of people-to-people links, political exchanges and cooperation in development. Ireland's official aid programme with Tanzania began in 1979.
The development cooperation programme invests in health, agriculture, nutrition, social protection and good governance and has a strong focus on the rights of women and girls. This commitment recognises that poor women and girls are marginalised within Tanzania's economy, and experience high levels of inequality in both the public and private spheres.
Build more sustainable livelihoods for poor women and youth
Tanzania and the wider region is undergoing a major demographic transformation. It is predicted that, by 2030, Tanzania's youth population will reach 15 million, an increase of almost 300% since 1990. Each year, 800,000 young Tanzanian men and women enter the labour market, but only 5% manage to secure formal employment. To address the exclusion of young people and women from the economy, many of our programmes focus on providing women's empowerment as well as youth skills to contribute to inclusive economic growth in Tanzania.
We are committed to strengthening the capacity of Tanzanian research institutions in the area of socio-economic transformation so that these policies are informed by strong evidence, as well as facilitating safe trade across the region.
Improve reproductive health and nutrition for women and children
Healthy women and children are the cornerstone for healthy and thriving societies. Support to health services, nutrition and gender equality to women and girls is indispensable to achieving a healthier society, increased productivity & income and economic development which reflect to our Mission Strategy. We provide funding to programmes to improve primary health care, access to services, and community nutrition programmes.
Protection and promotion of human rights
We support organisations that work to protect and promote human rights, with specific emphasis on the rights of women and girls. Beneficiary institutions focus on promoting effective governance, tackling gender-based violence, improving women's political participation and strengthening the women's movement. Reaching the furthest behind is a key priority under this portfolio, and we have sought to invest in this area through support for tailored grants, targeted advocacy and adaptive management programming. Promote stability in the Great lakes sub-region
The Great Lakes region is volatile and likely to remain so for the coming period. The situation has affected bordering countries including Tanzania. Since 2018, the Embassy has provided more than €3 million to UNHCR to provide health services, including a COVID-19 response, to three refugee camps and host communities in Kigoma region. At present, there are approximately 280,000 refugees and asylum seekers in Tanzania, primarily from Burundi and the DRC.
Facilitate enhanced institutional partnerships and cooperation
We support mutually beneficial country-level linkages through partnerships between Irish and Tanzanian institutions. These relationships generate new ideas, technologies and approaches; and strengthen links between our two countries.
Key Results

Under the edible seeds programme, new employment opportunities were created for 14,586 people with improved incomes for a further 139,310 sesame and sunflower farmers.
Close to 500 health service providers and 800 community health workers have been trained to provide nutrition training, 48,000 pregnant women and mothers have received health and early childhood behaviour change interventions.
Over 8,000 farmers were trained to grow nutritious food and raise small animals. Over 9,600 farmers have also participated in nutrition education and counselling and nearly 7,000 have been trained on how to preserve nutrient rich food.
The Health Basket Fund has helped to improve vaccination coverage, the emergency referral system and availability of essential medicines and equipment.
The staff vacancy rate in 18 targeted health facilities in remote areas fell from 64% in 2014 to 39% in December 2016. More than 1000 fistula repairs were conducted in 2016.
Provision of legal aid to about 14,936 people across the country, and outreach empowerment of about 4,400 youth in human rights clubs across the country.