Ambassador Kelly attends European Gaelic Football Championships in Maastricht
On 21 October 2017, Ambassador Kelly attended the European Gaelic Football Championships 2017 in Maastricht. The championship brought together ladies and men's teams from across Europe, with 700 players representing 50 teams from 15 countries in what is European GAA's most high profile annual event.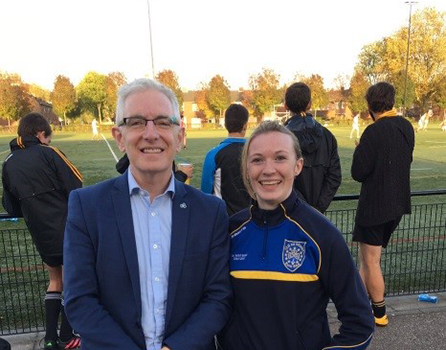 After an action packed day, a gala banquet was held in Maastricht's historic Augustinian Church, where Ambassador Kelly warmly congratulated the winning teams, the European GAA organisers and all players on an outstanding collective achievement.
In his remarks, Ambassador Kelly lauded the incredible work done by members of the GAA across Europe in promoting Ireland's sport and culture, noting how successful teams are at attracting broad interest extending beyond the Irish diaspora.
If you are interested in joining a GAA club in the Netherlands, please see the attached link to find details of local clubs https://gaelicgameseurope.com/clubs/netherlands/.