Ambassador Kelly hosts networking reception for Irish students in the Netherlands
On 23 November 2017, Ambassador Kelly hosted a reception at the Embassy for Irish students studying in the Netherlands. The reception was an opportunity for Irish students in the Netherlands to get to know one another and to share their experiences of Dutch life. Students also had a chance to meet the Embassy team and learn about the work of the Embassy.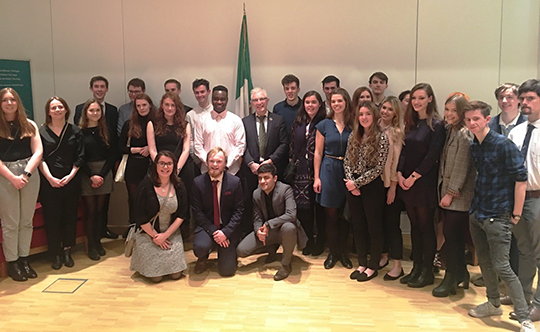 The reception was attended by over 30 students studying in third level institutions across the country and ranging from Erasmus exchange to undergraduate and postgraduate students. In his welcome remarks, Ambassador Kelly stressed the importance to the Embassy of proactive engagement with the Irish diaspora and noted with pride that the students gathered at the Embassy are themselves wonderful ambassadors for Ireland in the Netherlands.
The Embassy team was delighted to meet the students, wishes them all the very best with their studies and encourages them to stay in touch over the course of their stay in the country.
If you are studying in the Netherlands and would like to be included on our mailing list for events, please contact us