Ambassador Kelly addresses Irish Farmers Association Dinner in Amsterdam
On 15 May 2017, Ambassador Kelly addressed the Irish Farmers Association at a dinner in Amsterdam. He spoke about the central role that farming and agriculture play in the Irish economy, the Netherlands as an important market for Irish agri-food exports, and the work by Ireland and the Netherlands to mitigate against the impact of Brexit.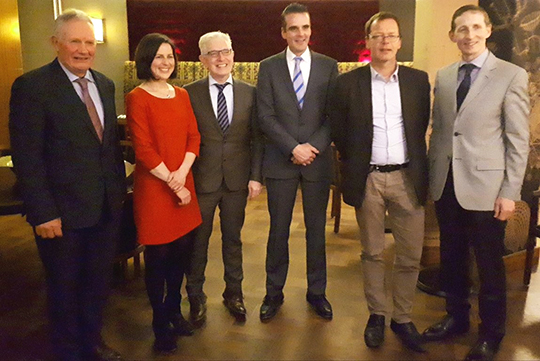 L-R Richard Kennedy, IFA Deputy President, Laura Crowley, Bord Bia Manager Netherlands, Ambassador Kelly, Joe Healy, IFA President, Klaas Johna Osinga, Senior Adviser, LTO and Liam McHale, IFA Director of European Affairs Credit: Embassy of Ireland
On 15 May 2017, the Ambassador of Ireland to the Kingdom of the Netherlands, HE Mr Kevin Kelly, addressed the Irish Farmers Association at a dinner in Amsterdam. Attendees included President of the IFA, Joe Healy, Director General Damian McDonald, IFA county representatives and regionally elected chairmen of the IFA.
Ambassador Kelly spoke about the key role that farming plays in the continued success of Ireland's economy. He reflected on the high degree of technological innovation and internationalisation in the Dutch agricultural sector. He noted the opportunities in the Dutch market for Irish agri-food exporters, with exports of Irish food and drink to the Netherlands totalling €700 million in 2016. A strong Irish brand of quality grass-fed beef and family farming means that Irish beef strongly appeals to the Dutch market
Ambassador Kelly remarked on the profound implications of Brexit for both Ireland and the Netherlands. He noted the strong bilateral relationship between the two countries and that both wish to see the closest possible future trading relationship between the EU and the UK. Ambassador Kelly recalled the visits of the Taoiseach and four Irish Ministers to the Netherlands to date this year for bilateral meetings with their Dutch counterparts, all with the aim of preparing for the consequences of the UK's departure from the EU. Ambassador Kelly concluded by acknowledging that while the challenges of Brexit will be immense, it also presents new opportunities for Ireland.