Ambassador Kelly delivers Ireland's national statement at a meeting of the Executive Council
Ireland's Permanent Representative to the Organisation for the Prohibition of Chemical Weapons (OPCW), Ambassador Kelly delivers Ireland's national statement at a meeting of the Executive Council convened to discuss the alleged use of chemical weapons in Syria on 4 April 2017
On 13 April 2017, H.E. Mr Kevin Kelly, Permanent Representative of Ireland to the OPCW delivered Ireland's national statement at the 54th Meeting of the Executive Council of the Organisation for the Prohibition of Chemical Weapons, condemning the recent alleged chemical weapons attack at Khan Shaykhun. The 54th Meeting of the Executive Council of the OPCW was convened following the alleged chemical weapons attack in the Idlib province of northern Syria on 4 April 2017.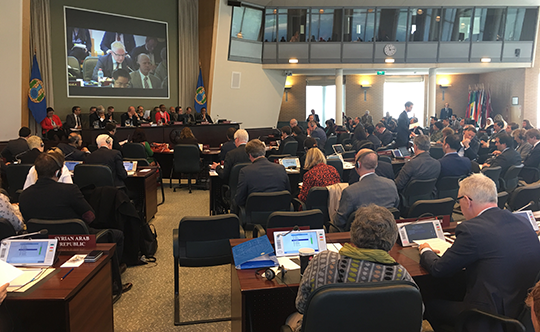 Ambassador Kelly, Ireland's Permanent Representative to the OPCW, delivers Ireland's national statement Credit: Embassy of Ireland
Ambassador Kelly began by welcoming the decision to convene the meeting and expressing his sincere appreciation to the Director-General and staff of the OPCW for their continued professionalism and tireless commitment. Ambassador Kelly expressed Ireland's deep concern about the alleged use of Chemical Weapons in Idlib province on 4 April 2017. He expressed Ireland's condemnation in the strongest possible terms of the reported use of Chemical Weapons by Syria and called for those responsible to be held accountable. He reiterated Ireland's call to refer possible war crimes and crimes against humanity perpetrated in Syria to the International Criminal Court. He called on Syria to meet its obligations under the Chemical Weapons Convention without further delay, and voiced Ireland's continued support for the work of the OPCW's Fact Finding Mission and the OPCW-UN Joint Investigative Mechanism.
Read Ireland's national statement in full. In addition to overseeing the destruction of existing chemical weapons stockpiles, the ongoing allegations of the use of chemical weapons in Syria have been central to the Organisation's work since 2013. More information on the work of the OPCW can be found at https://www.opcw.org.