Embassy of Ireland welcomes 200 guests to Christmas concert by Irish folk singer Aoife Scott
On 4 December 2017, the Embassy of Ireland hosted a special Irish Christmas concert by well-known folk singer Aoife Scott at the Korzo Theatre in The Hague. Attended by over 200 guests, including ambassadors and representatives of the diplomatic community, the festive performance was an opportunity to celebrate the holiday season and to thank colleagues for their friendship and support in 2017.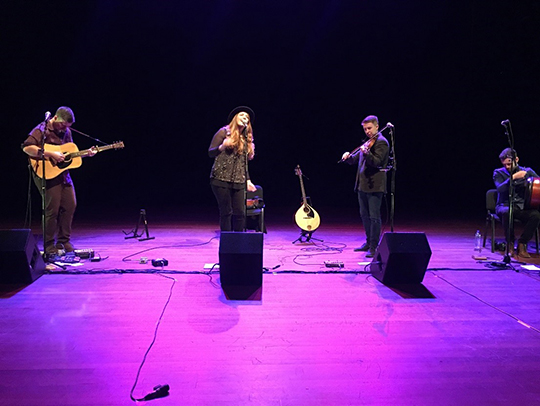 Andy Meaney, Aoife Scott, Cathal Curran and Eamonn Maloney on stage at the Korzo Theatre in The Hague Credit: Embassy of Ireland.
Welcomed to the stage by HE Ambassador Kevin Kelly, Aoife Scott and band members Andy Meaney, Eamonn Maloney and Cathal Curran gave a captivating performance. Highlights of the show included a Dutch première of her Christmas single The December Letter, her rendition of Silent Night in Irish and a beautiful performance of All Along the Wild Atlantic Way. Weaving and blending Irish traditional music, dance, and storytelling, Aoife and her band enthralled those present with the range and breadth of their talent.
2017 was a hugely successful year for Aoife Scott and the Embassy was delighted and honoured that she closed out the year in The Hague. The concert was followed by a reception, where guests had the opportunity to sample some of Ireland's best-loved Christmas tipples and treats, including plum pudding, mince pies and mulled wine.