An Taoiseach Enda Kenny TD visits the Netherlands
On 21 April 2017, An Taoiseach Enda Kenny TD visited The Hague for a meeting with the Prime Ministers of the Netherlands and Denmark. He also delivered the 15th Norbert Schmelzer lecture on 'Brexit and the Future of Europe' at the Sociëteit De Witte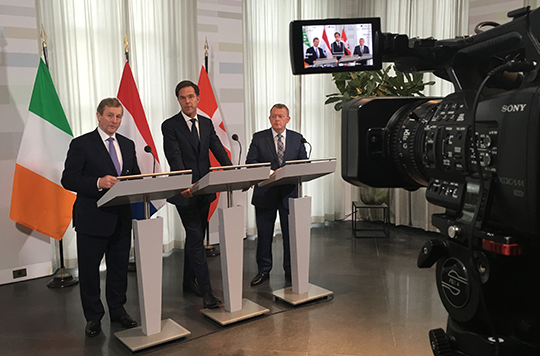 An Taoiseach Enda Kenny TD delivers a joint press conference with Dutch and Danish counterparts in the Hague Credit: Embassy of Ireland
An Taoiseach Enda Kenny TD visited The Hague to meet with his Dutch and Danish counterparts, Prime Minister Mark Rutte and Prime Minister Lars Løkke Rasmussen, and discuss the impact of Brexit on their respective countries. The meeting was followed by a press conference, during which An Taoiseach stated that Ireland, the Netherlands and Denmark share common positions on many EU issues, including on the challenges of Brexit.
Following the meeting, An Taoiseach delivered the 15th Norbert Schmelzer lecture on 'Brexit and the Future of Europe' at the Sociëteit De Witte. An Taoiseach's lecture addressed the challenges that lie ahead for Ireland as the UK exits the European Union.
An Taoiseach outlined Ireland's priorities during the Brexit process, which include protecting the Good Friday Agreement and the Northern Ireland Peace Process, including through maintaining an open border; continuing the Common Travel Area with the UK; minimising the impact of Brexit on Ireland's trade and the economy; and working towards a positive future for the EU. An Taoiseach reiterated Ireland's firm place at the heart of Europe and its commitment to membership of the EU and the Eurozone. The lecture was followed by a questions and answers session with the audience.
Read An Taoiseach's lecture in full: 'Brexit and the Future of Europe'