An Taoiseach Leo Varadkar TD meets with Dutch Prime Minister Mark Rutte in Dublin
On 6 December 2017, An Taoiseach Leo Varadkar TD welcomed Dutch Prime Minister Mark Rutte to Government Buildings in Dublin for a bilateral meeting. The two leaders enjoyed an open, friendly and positive discussion on a range of important issues from the future of Europe to the ongoing Brexit negotiations.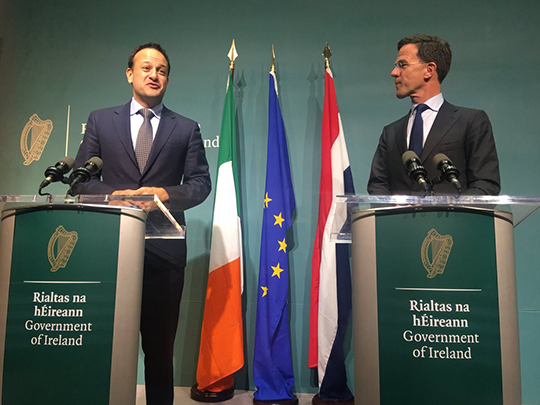 The Taoiseach noted the common interests and values of Ireland and the Netherlands, highlighting that both are small trading nations committed to free trade, liberal values and multilateralism. The Taoiseach expressed Ireland's appreciation for the consistent support and solidarity from the Netherlands throughout the Brexit process. He further indicated that Ireland and the Netherlands had agreed to intensify cooperation across the European agenda in the context of the debate on Europe's post-Brexit future and stressed that both nations share a positive outlook on the EU's future.
Prime Minister Rutte thanked the Taoiseach for his invitation to Dublin and noted that the two countries are like-minded on many issues including the Single Market and Brexit. The Prime Minister indicated his view that on the future of the EMU, Banking Union and Capital Markets Union, Ireland and the Netherlands share common ground. He stated that this was a very good and friendly meeting between two government leaders who think alike on many issues and expressed the wish to continue to work closely with Ireland in the future.