Disarmament and Non-Proliferation
Ireland has been a leading voice for decades on disarmament and non-proliferation issues.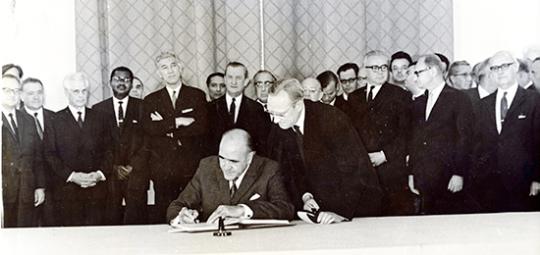 Ireland is committed to working to achieve a more peaceful, secure and prosperous world. We recognise that the spread of weapons fuels conflict, contributes to human rights abuses and hinders development. Promoting disarmament, therefore, is one of five signature foreign policies for Ireland and builds upon Ireland's historic legacy in this area.
In 1958 Ireland introduced at the UN the first of what became known as the "Irish Resolutions". This initiative culminated in the adoption of the Nuclear Non-Proliferation Treaty (NPT) and Ireland was the first country to sign the NPT in 1968.
Ireland is party to several international agreements that seek to eliminate certain categories of weapons, or ensure that their spread and use is controlled. Ireland was part of a group of states who lobbied for and negotiated a new Treaty on the Prohibition of Nuclear Weapons in 2017. This Treaty, the first of its kind, calls for a ban on the production, use and possession of nuclear weapons. Further information on these agreements can be found here.
In recent years, Ireland has also played a leading role in bringing the horizontal issue of gender and disarmament to the fore in international negotiations. Ireland has supported research confirming the disproportionate impact of nuclear weapons on women and girls, and advocates for better consideration of the gendered impact of small arms and light weapons at the UN. A recent achievement in this area is the inclusion of a reference to the gendered impact of nuclear weapons, and a paragraph on the need for full and effective participation of women, in the preamble of the Treaty on the Prohibition of Nuclear Weapons.
Further information can be found here