Disarmament & Non Proliferation
Achieving a world free of nuclear weapons and promoting disarmament of conventional weapons and arms control are priorities for Ireland.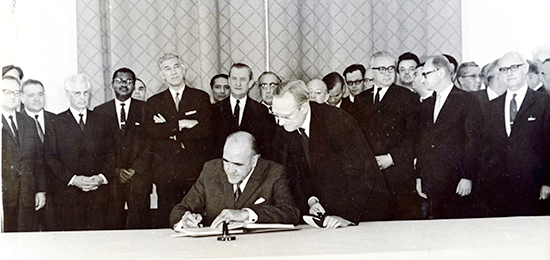 Minister Frank Aiken signing the Non-Proliferation Treaty (NPT) in Moscow, July 1968. Source: UCD.
What we do
Ireland is committed to working to achieve a more peaceful, secure and prosperous world. We recognise that the spread of weapons of all kinds fuels conflict, contributes to human rights abuses, and hinders development. Promoting disarmament, therefore, is one of five signature foreign policies for Ireland and builds upon Ireland's historic legacy in this area.
From our early efforts at the United Nations in the 1950s which led to the creation of the Nuclear Non-Proliferation Treaty (NPT) in 1968 to our more recent work on the humanitarian impact of the misuse of conventional weapons, Ireland continues to play a leading role in efforts to promote disarmament, non-proliferation and the regulation of new weapons.
Ireland is party to a number of international agreements that seek to eliminate certain categories of weapons, or ensure that their spread and use is controlled. Further information on these agreements can be found in the sections below.
In recent years, Ireland has also played a leading role in bringing the horizontal issue of gender and disarmament to the fore in international negotiations, both in terms of the gendered impact of conventional and nuclear weapons and the need to ensure greater women's agency in all disarmament-related discussions and negotiations. A recent achievement in this area is the inclusion of a reference to the gendered impact of nuclear weapons, and a paragraph on the need for full and effective participation of women, in the preamble of the Treaty on the Prohibition of Nuclear Weapons.
Nuclear Weapons and other WMD
Conventional Weapons
Export Controls
Civil Society Engagement and Outreach
Speeches and Statements
Information and Resources
Towards a Political Declaration on EWIPA