Peacekeeping
Ireland has a proud tradition of participation in UN and UN-supported peacekeeping missions, both civilian and military. Ireland is proud of being the only nation to have a continuous presence on UN and UN-mandated peace support operations since 1958, with Irish peacekeepers highly respected internationally.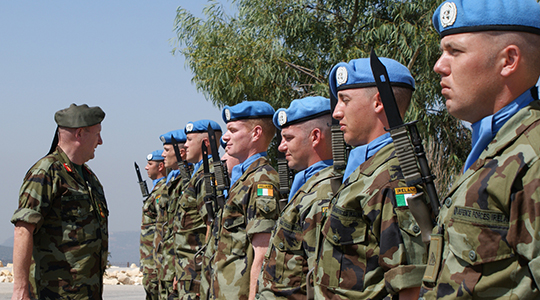 Traditional Peacekeeping
The Government decides on a case-by-case basis whether, when and how to commit Defence Forces personnel to peacekeeping operations. The 'triple lock' of UN authorisation, Government approval, and Dáil (the Irish parliament) approval must be satisfied before the Defence Forces can deploy.
Our largest deployment currently is with the UN peacekeeping mission in Lebanon (UNIFIL). We also have Defence Forces troops deployed in the Golan Heights, , Bosnia & Herzegovina, Kosovo, Western Sahara, Mali and the Democratic Republic of Congo. Since 1978 many Defence Forces officers have also served in different positions at UNHQ, New York.
In the past 15 years, members of the Defence Forces have served with several missions which have been authorised by the UN and led by the EU or NATO.
Read more about the involvement of our Defence Forces in overseas missions.

Civilian Peace Operations
We are also increasingly involved in civilian peacekeeping. Strong civil institutions play an important role in preventing conflict from starting or reoccurring, and civilian peace operations help fragile states to rebuild institutions so they have the capacity to provide for the local population. These operations can have short-term aims to improve peace and security, as well as longer-term objectives such as:
strengthening the rule of law, democracy and human rights;
building capacity within civil societies and state institutions;
bringing about stable conditions necessary for sustainable development.
Where are Irish troops currently stationed? See our list of current deployments