Peacekeeping
Ireland has a proud tradition of participation in peacekeeping missions, both civilian and military. The UN charter is central to our peacekeeping policy.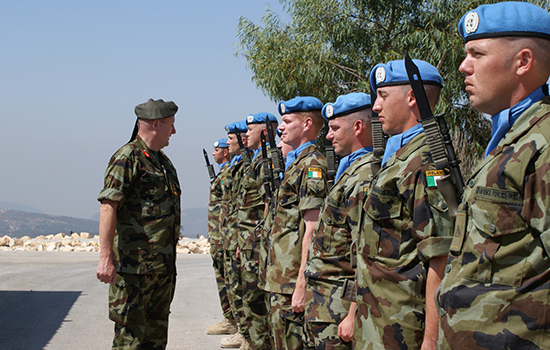 Irish peacekeepers are highly respected internationally, by locals where they have served with missions, and within the international community.
Traditional Peacekeeping
Since 1958, our troops have contributed to international peacekeeping, primarily with the United Nations. Our largest deployment currently is with the UN peacekeeping mission in Lebanon (UNIFIL).
In the past 15 years members of the Defence Forces have served with a number of missions which have been authorised by the UN and led by the EU or NATO.
Our most important involvement in an EU operation to date has been with EUFOR Chad, which was commanded by Lieutenant General Pat Nash.
Ireland acted as Framework Nation of the NATO-led force in Kosovo, KFOR, in 2008.
The 'triple lock' of UN authorisation, and Government and Dáil approval must be in place before the Defence Forces can take part in peacekeeping operations.
Read more about the involvement of our Defence Forces in overseas missions.
Civilian Peace Operations
We are also increasingly involved in civilian peacekeeping. Strong civil institutions play an important role in preventing conflict from starting or reoccurring, and civilian peace operations help fragile states to rebuild institutions so they have the capacity to provide for the local population. These operations can have short-term aims to improve peace and security, as well as longer-term objectives such as:
strengthening the rule of law, democracy and human rights
building capacity within civil societies and state institutions
bringing about stable conditions necessary for sustainable development
A range of expertise is required in these missions, in the areas of policing, customs, rule of law, and human rights.
Irish experts in these fields are currently deployed in the following missions:
EUPOL Afghanistan
EUJUSTLEX Iraq
EULEX Kosovo
EUMM Georgia
EUPOL COPPS
EUCAP NESTOR
An Garda Síochána have contributed to both EU and UN civilian missions since 1989, when members were deployed to UNTAG, the UN Transition Assistance Group Mission in Namibia. Gardaí are currently serving in Cyprus with UNFICYP, and in Kosovo, with EULEX Kosovo.
Are you interested in applying for a seconded position as a civilian expert with the EU's Common Security and Defence Policy missions?
Positions are advertised as they arise on www.publicjobs.ie. Alternatively, you can be placed on our mailing list for new positions by contacting us.