Irish Aid in Palestine
Ireland's support to the Palestinian people over more than two decades reflects a longstanding commitment to the development of a viable, sovereign Palestinian state, living in peace alongside the State of Israel.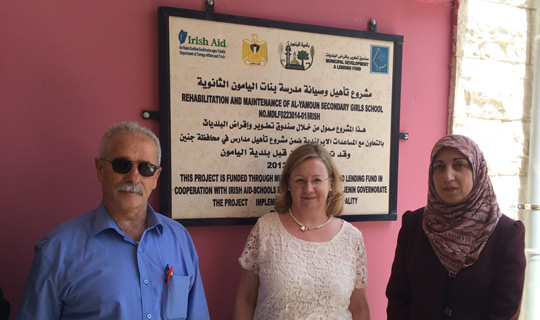 Irish Aid in Palestine
Ireland's development cooperation programme seeks to contribute to a sustainable improvement in the quality of life of the most vulnerable Palestinians. The programme has a particular focus on education, an area which is crucial to Palestine's long-term economic viability. Total funding levels have grown steadily in recent years, from €4.49 million in 2005 to €10.7 million in 2013. Ireland's funding provides emergency assistance to the most vulnerable while also supporting the Palestinian Authority in public service delivery.
At the Representative Office we are responsible for managing Ireland's development cooperation programme in the occupied Palestinian territory (oPt). We do this with support from colleagues at our Headquarter Offices in Dublin and Limerick.
The key areas of Ireland's programme include: support for the United Nations Relief and Works Agency in the Near East (UNRWA), the Palestinian Authority (PA), humanitarian coordination and civil society organizations advocating for human rights.
UNRWA
Ireland is a longstanding supporter of the critical work undertaken by UNRWA with and on behalf of Palestinian refugees across its five fields of operation (the West Bank, Gaza, Syria, Jordan, Lebanon). As part of a multi-annual pledge commitment over 2013-2015, Ireland is providing €4 million annually to UNRWA's General Fund, which delivers core services, especially in education and health to some 5 million Palestinian refugees.
Ireland is also a generous supporter of UNRWA's Emergency Appeals both in Syria and Gaza with €1.5 million provided so far in 2014. €1 million of this was provided to UNRWA's Syria Appeal earmarked for emergency activities in Lebanon and €500,000 to UNRWA's Gaza Emergency Appeal.
Support to the Palestinian Authority
Ireland's funding to the Palestinian people has traditionally had a strong focus on the education sector. We work closely with the Palestinian Authority Ministry of Education to strengthen its ability to provide a high standard of education to Palestinian girls and boys. We do this through providing support to the PA's Education Development Strategic Plan along with a number of other donors, including Belgium, Norway, Finland, and Germany. Ireland's total contribution to the Education Development Strategic Plan to date is €6 million.
Support is also provided to the PA via the EU PEGASE mechanism, which is used by other EU Member States, for contribution to payment of PA public service salaries and pensions, as well as to support social benefit payments to extremely vulnerable Palestinian families.
Humanitarian support to OCHA and the Emergency Response Fund
Ireland supports the Office for the Coordination of Humanitarian Affairs in the oPt, which coordinates the humanitarian and emergency response to effects of the conflict as well as to effects of natural disasters on the West Bank and Gaza Strip. We also support the Emergency Response Fund, which is managed by OCHA and is a pooled donor mechanism used to provide rapid and flexible allocation of funds at the onset of emergency situations.
Protection of Human Rights
Ireland supports a number of key Palestinian and Israeli NGOs in their work on the monitoring, advocacy and legal defence of human rights in the oPt.
Long-term, sustainable development in Palestine is, of course, closely linked to a successful outcome to the Middle East Peace Process. Ireland will continue to support the search for a lasting and peaceful political solution and in the meantime will continue to offer the humanitarian support which is essential in addressing the ongoing basic needs of the Palestinian people.
For more information you can visit the Irish Aid Palestine page.
The Fellowship Training Programme
The Fellowship Training Programme (FTP) is one of Irish Aid's longest running programmes, with the first scholarships being awarded in 1974. In 2013, a total of 45 scholarships, from across Ireland's missions, were awarded.
The Representative Office of Ireland is very happy that Palestine is one of the participants in this Programme, and has had successful awardees from the oPt in the 2011-12 academic year and again for the 2014-15 academic year.
The Programme aims to increase the specialist knowledge of staff working in Ireland's partner organisations, including government ministries and civil society organisations. It does this by providing scholarships to mid-career professionals to study postgraduate or masters courses in Ireland or in a college within their own region. Each year, partner organisations are invited by the Representative Office to nominate candidates for scholarships.
More information is available on the Irish Aid Fellowship Programme page, and on the Irish Council for International Students website, which administers the Programme on our behalf.