Heading to France for Euro 2016? Check out our travel advice for fans!
Ready for Euro 2016? The Boys in green are training hard, but have you started your Euro 2016 preparations?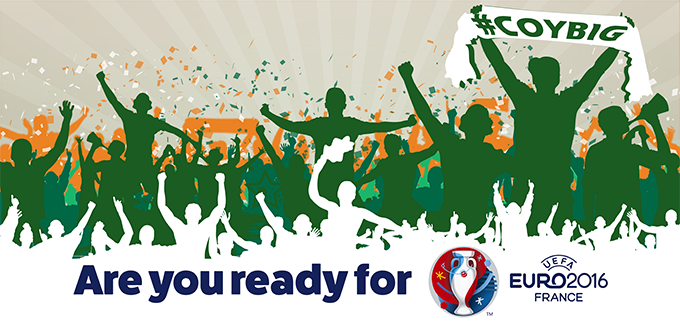 With kick off fast approaching, the Department of Foreign Affairs and Trade is encouraging all Irish fans traveling to France to be match ready. Check out our travel tips to help you enjoy the tournament...whatever the result!

Download Travel Wise
Download our information leaflet, Travel Wise @ Euro2016 for a list of handy contacts and tips.Download PDF (1,549KB)
Before you go...
PASSPORT and PASSPORT CARD
Check your passport now and make sure that it is valid for duration of your intended travel. Make a copy of it and email it to yourself and a family member at home, in case it gets lost or stolen and you need replacement travel documents.
Apply for the new Irish Passport Card. This is valid for travel within Europe and can fit in your wallet, allowing you to leave your passport in a safe place.
As France is in a State of Emergency, a valid form of photo ID should be carried at all times while in France.
---
EUROPEAN HEALTH INSURANCE CARD
Ensure you bring your European Health Insurance Card with you and if you don't have one apply now.‌‌‌
---
BE PREPARED
Check out and familiarise yourself with my Department's latest Travel Advice for France and information on the different regions, laws and customs.
Plan your travel itinerary and book accommodation well in advance.
---
INSURANCE
Don't go to France without comprehensive travel insurance.
---
REGISTER
Let us have your details through our Citizen Registration facility so that we can contact you in case of an emergency.‌
---
Once you're there...
FOLLOW THE RULES
Local laws and customs – familiarise yourself with the local laws and customs. You can learn a lot from our comprehensive travel advice at www.dfa.ie/travel.
There are likely to be long queues to access public transport and stadiums and Fanzones, so arrive early and follow advice from the local authorities.
---
CONTACT
Win, lose or draw, let your family and friends know that you're ok. Call, text or post on social media, and ensure your loved ones have information about your itinerary and travel plans.
Download our information leaflet, Travel Wise @ Euro2016 for a list of handy contacts and tips.
---
BE RESPONSIBLE
Avoid unnecessary risks – steer clear of trouble, drink responsibly and behave respectfully when engaging with local authorities, including local law enforcement agencies.
---
IF YOU NEED HELP
For an emergency in France dial 112. For consular assistance from the Irish Embassy in Paris, a dedicated phone line will go live on 10th June: +33 1441 767 80.
You can also send an email query through the Embassy's website.‌
---
STAY CONNECTED
Follow us on @dfatirl @dfatravelwise and @irlembparis and keep an eye out for the DFAT travel app which can now be downloaded from the Apple store and from the Andriod store.
---