February Design Month-Consulate Webinar Series Celebrating Irish Women in Design. View events here.
Event
26 February 2021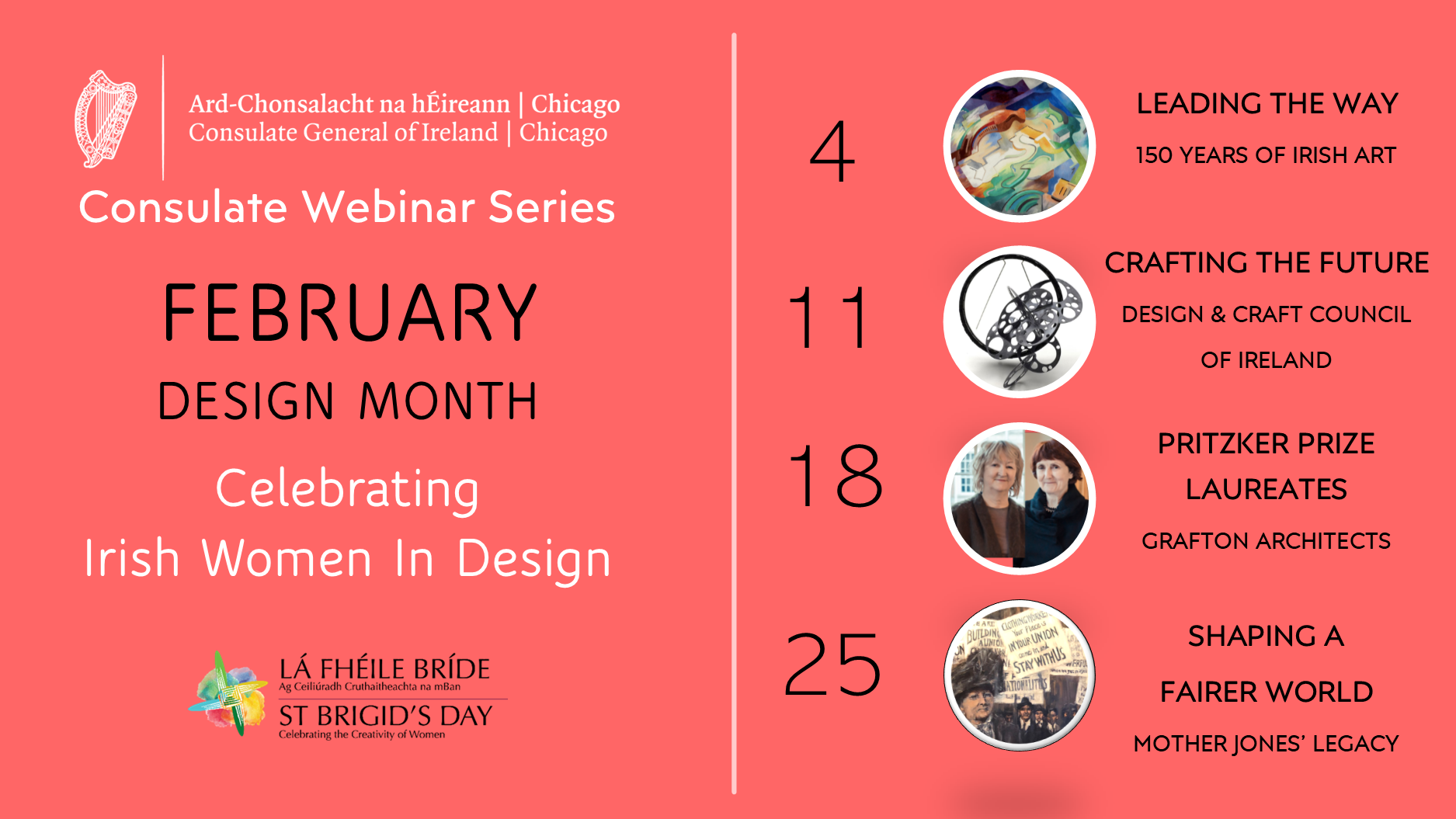 Four events in the month of February focused on Irish Women in Design from Arts in the 1870s to Architecture today. You can view the recorded events here.
In recognition of St Brigid, Ireland's only female patron saint who was not only an early advocate for peace and women's rights and a powerful Abbess, she also founded a school of art; we dedicated the month of February to the celebrating the creativity of Irish women. You can review the events here.
Feb 4 - 'Leading the Way' - 150 Years of Creative Women in the Arts. This talk with Curator of the O'Brien Art Collection Marty Fahey looks at over 100 years of Irish women painters, artisans, sculptures, writers, fashion and interior designers with a number of special musical guests including Liz Carroll, Tríona Ní Dhomhnaill, and Joanie Madden. View here.
Feb 11 - 'Crafting the Future' - Women in Irish design today looks how Irish designers work crafting their future careers in partnership with the Design and Crafts Council of Ireland showcasing the work of Seliena Coyle and Annemarie Reinhold. Nora Gainer Head of Civic Relations & Partnerships at the Art Institute of Chicago moderates this event. View here.
Feb 18 - 'Designing Global Spaces' - this event is in partnership with the Chicago Architecture Center and their 'Architecture Talks' series. Special guests are Ireland's 2020 Pritzker Prize winning Grafton Architects Shelley McNamara and Yvonne Farrell, who give wonderful insights to the influences shaping their global designs from London to Lima, moderated by Dirk Denison of Dirk Denison Architects and Illinois Institute of Technology.
Feb 25 - 'Shaping A Better World' - the Consulate Webinar Series closes with a look at the historic contribution of labour rights activist and Cork immigrant Mary Harris/"Mother Jones", who dedicated her life to shaping and designing a more just society - a commission of very special artwork to hang in the Consulate. Speakers include author, Mother Jones expert and Associate Professor of History at Northern Illinois University, Rosemary Feurer and Artist, Lindsay Hand whose inspiring art of Mother Jones captures the true spirt of the Cork woman. View here.