March 25th 1pm CST 'The Emergence of Northern Ireland' Part of the 'A Farther Shore' Series
News
19 March 2021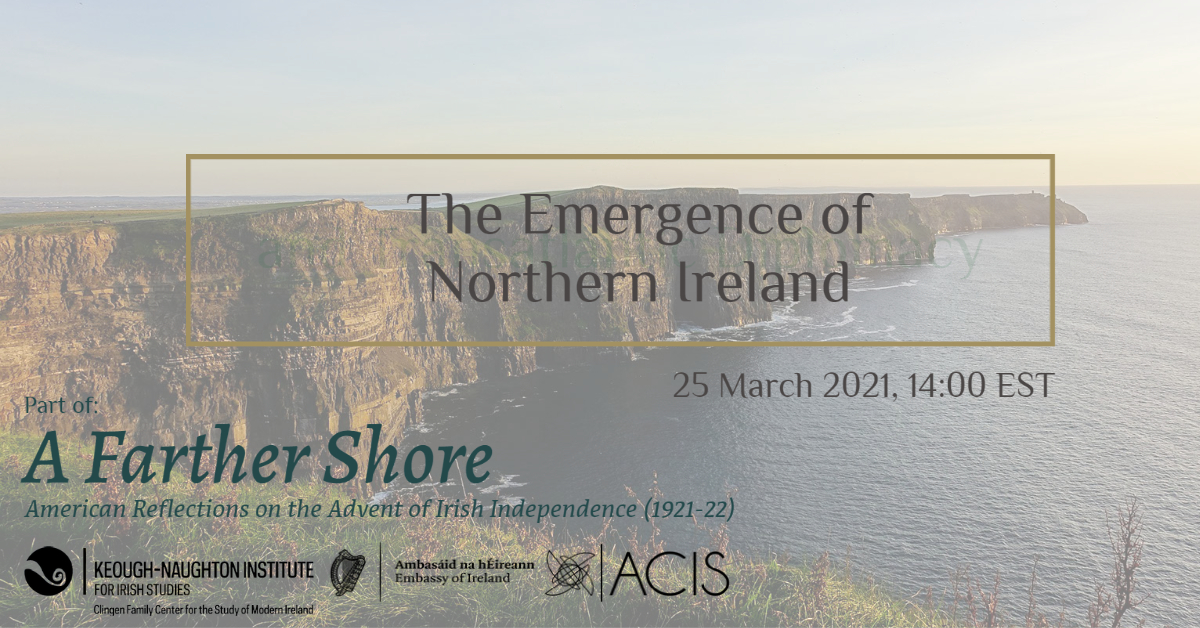 'A Farther Shore' - A series of talks by The Embassy of Ireland and the American Conference of Irish Studies
This year, Ireland's Embassy and Consulates have joined with the ACIS and Irish Studies programs across leading Universities to host a series of lectures and panels reflecting on the final and most formative years of Ireland's Decade of Centenaries.
On March 25th, the fourth installment 'The Emergence of Northern Ireland' was presented by the University of Notre Dames' Clingen Family Center for the Study of Modern Ireland, part of the Keough Naughton Institute of Irish Studies. The event, moderated by Dr Colin Barr Visiting Faculty Fellow, with a panel including Ambassador Dan Mulhal, Dr. Niamh Gallagher, St. Catharine's College, Cambridge University; Prof. Briona Nic Dhiarmada, University of Notre Dame, Prof. Barry McCrea, University of Notre Dame is available for viewing here: The Emergence of Northern Ireland
Previous webinars in the series are available for streaming from Boston College on The Aftermath of the Easter Rising, 1916-1919 and from DePaul University on Reflections on the War of Independence, 1919-1921.
So hope for a great sea-change
On the far side of revenge.
Believe that a farther shore
Is reachable from here.
Believe in miracles
And cures and healing wells.
Seamus Heaney
From The Cure at Troy