International launch of Creative Ireland
International launch of Creative Ireland and Culture Ireland's 2017 USA Programme by Minister Heather Humphreys, New York, January 2017
The Minister for the Arts, Heritage, Regional, Rural & Gaeltacht Affairs, Heather Humphreys TD travelled to New York in mid-January to launch Creative Ireland internationally and Culture Ireland's US programme for 2017.
As part of the Minister's promotion of the Irish arts and culture, the Minister attended a preview screening of the Druid production, "The Beauty Queen of Leenane" at the Brooklyn Academy of Music. The Minister was also delighted to meet with representatives of the Irish Arts Center, the Irish Repertory Theatre and the Origins Theatre.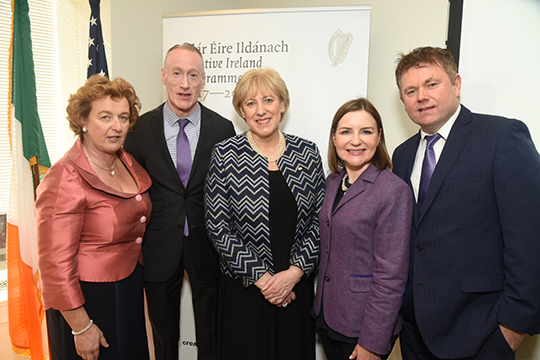 The formal international launch of Creative Ireland, which was live-streamed, took place at the Consulate of Ireland in NY on 13th January. Warmly welcoming the initiative, Consul General Barbara Jones said that Creative Ireland gives us "a framework into which we can pour all the enthusiasm and creative energy that people now want to bring" to their further expression of being Irish and Irish-American.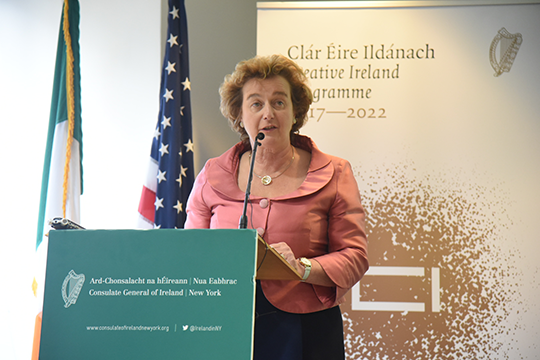 Explaining the background to Creative Ireland which will continue until 2022, Minister Humphreys said: "The centenary celebrations reminded us all of the transformative power of our unique culture - something that was understood so well by the revolutionary generation. We saw that there could be a legacy programme from the centenary,that would be rooted in culture and creativity.
So we started by taking the same approach that we had taken to planning to the centenary in the first place – we talked to people, we consulted.
We asked ourselves – and all the key stakeholders involved in the commemorations – what had worked well, and how could we build on it for the future.
What kind of practical but inspirational legacy could we leave for future generations?
Our response is Creative Ireland, a bold and ambitious all-of-government initiative to mainstream culture and creativity in the life of the nation - so that individually and collectively we can realise our full creative potential - and then use that creative potential to foster collective wellbeing and social cohesion."
The Minister also underlined the importance of launching the initiative to the international Irish community and she could not think of a more appropriate location than New York. "When I think of Irish culture and creativity overseas, I think of New York. There's an Irish footprint on every block of this city. Irish culture permeates Manhattan, Brooklyn, Queens and beyond."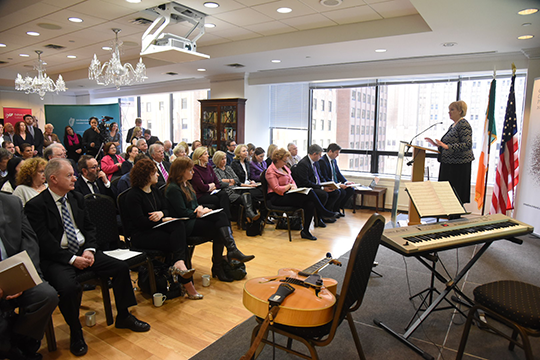 During her visit to New York, Minister Humphrey's also had the pleasure of meeting with the Speaker of the New York City Council, Melissa Mark-Viverito and Irish Caucus members at City Hall. The Minister thanked the Speaker and Irish Caucus for their support of and participation in the 1916 commemoration events, both in New York and in Ireland.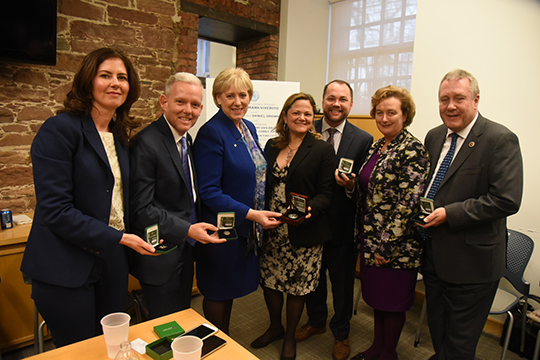 The Consul General, Barbara Jones, would like to thank everyone who helped ensure such a successful visit.