St. Patrick's Day in New Zealand
If you find yourself in New Zealand on St. Patrick's Day, there is plenty going on in celebration of our Patron Saint.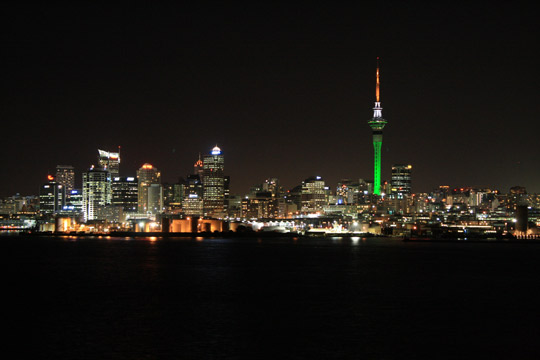 Ministerial visit
Alex White, T.D. Minister for Communications, Energy, and Natural Resources will be the Government's official representative in New Zealand for the St. Patrick's Day period.
The Minister will begin his visit in Wellington on Thursday 12 March; he will attend the annual Emerald Ball in Auckland on Friday 13 and will be in Wellington again for the New Zealand GAA national championships on 14 March, before travelling on to Christchurch. The Minister will be back in Auckland for the St Patrick's Day parade on Sunday 15th. The Minister will finish his visit to New Zealand on 18 March.
During the visit, the Minister will promote trade, investment, and tourism between Ireland and Australia and will meet Irish community groups, political representatives, and business leaders.
Go Green for St. Patrick's Day
It's not just for buildings you know!
This year Tourism Ireland is asking everyone to Go Green. Pledge your own 'greening' event this St Patrick's Day and to involve as many people in your own professional and social networks as possible. Create a special event or occasion to introduce them to Ireland. So, make 2015 the year you join the 'Global Greening'.
Pledge your greening in advance of the 17th of March on Twitter using #GoGreen4PatricksDay; and once you've had your greening event please don't forget to share the photos, again using #GoGreen4PatricksDay.
The Irish Government's Emigrant Support Programme is pleased to provide funding to the St Patrick's Festival Auckland.
This year the Festival runs over a number of days:
Sunday 8th March, Auckland Irish Society St Patrick's Fair Day,
11am to 5.00pm Fowlds Park, Rocky Nook Ave, Sandringham, Auckland
Friday 13th March, The Emerald Ball,
6.45pm to 1.00am, The Pullman, Cnr Princes St and Waterloo Quadrant, Auckland City
Sunday 15th March, Hugh Green Group St Patrick's Parade,
12.00pm to 1.00pm Queen Street, (from Mayoral Drive to Quay Street) Auckland
Sunday 15th March, Hugh Green Group St Patrick's Fleadh,
1.00pm to 3.00pm, Market Square, Viaduct Harbour
Tuesday 17th March, St Patrick's Day – Greening of Sky Tower