Ambassador Ó Caollaí presents credentials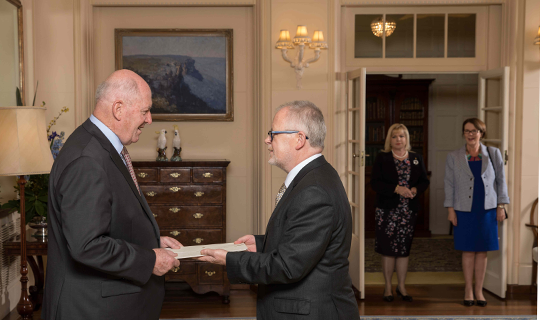 ‌
His Excellency Mr Breandán Ó Caollaí, Ambassador of Ireland to Australia, presented credentials to His Excellency General the Honourable Sir Peter Cosgrave AK MC (Retd) Governor-General of the Commonwealth of Australia on 12 October 2016.
Ambassador Ó Caollaí became the 17th Irish Ambassador to Australia when he presented credentials to the Governor General at Government House, Canberra.
Ambassador Ó Caollaí was accompanied by his wife, Ms Carmel Callan, and his colleagues Ms Sarah Mangan, Deputy Head of Mission, and Mr Graham Hartnett, Second Secretary.
The Governor General and the Ambassador had a warm discussion recalling the long history of the Irish in Australia and touching on Sir Peter's Irish ancestry, his positive experience serving with Irish troops on peace-keeping missions, and our shared interest in rugby. They also discussed Ireland's place in the EU and the prospects for a European Union - Australia Free Trade Agreement.