Irish - Australian Relations
The Embassy plays an important role in fostering the strong and close relationship between Ireland and Australia.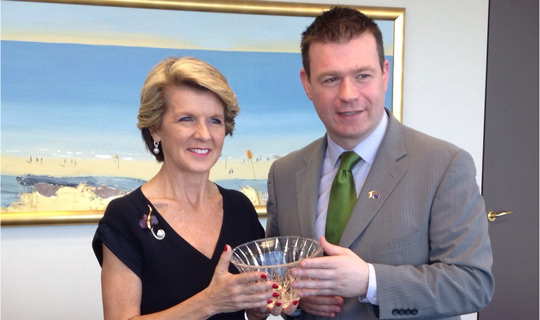 Bilateral relations between Ireland and Australia are excellent. Both countries opened resident Embassies in 1946. Ireland opened a Consulate General in Sydney in 2000.
The Irish were among the first European settlers in Australia and contributed substantially to the development of contemporary Australian society. Irish migration has been almost continuous throughout the period of European settlement of Australia. Among the very first Irish settlers were 155 convicts from County Cork who arrived in Sydney in 1791. In addition to convicts, more than 300,000 other Irish settlers migrated to Australia between 1840 and 1914. In the 2011 census, nearly 2.1 million Australians indicated they had some Irish ancestry. In addition, some one in three Australians can claim Irish heritage and many people identify strongly with their Irish roots. The Irish influence in the political, social and cultural history of Australia has been well documented.
The Embassy works to facilitate and support existing connections and helps to foster new ones. High-level visits, such as those made by Ministers for St. Patrick's Day-related engagements, as well as trade and economic missions, cultural events and Irish-Australian community-led initiatives, all offer opportunities to reinforce and expand these enormously important ties.