Ambassador Mary Whelan
Ambassador Mary Whelan presented credentials to Federal President Heinz Fischer on 2 October 2014.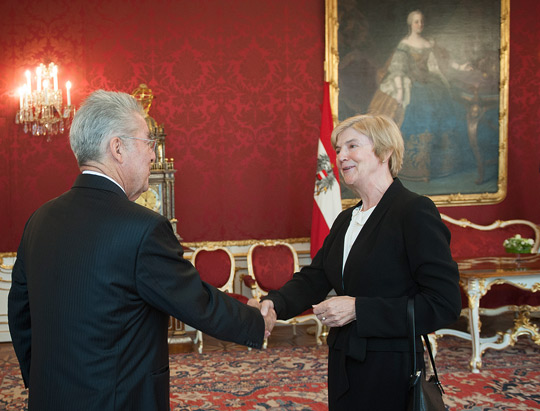 I am privileged to have been appointed as the Ambassador of Ireland to the Federal Republic of Austria. The relationship between the two countries has deep roots in history that have remained vibrant down to the present day.
Our bilateral historical ties have been immeasurably strengthened by our common membership of the European Union and the eurozone. Ireland and Austria share a common perspective on many fundamentally important policy issues at European level, including the importance we attach to strengthening Europe's capacity to grow and create more and better jobs.
At a wider international level our shared values are evident in terms, for example, of our support for multilateralism; our commitment to the peaceful resolution of conflicts; our record of involvement in UN peacekeeping missions.
Equally important are the inter-personal links between the two countries, whether at the level of cultural expression, tourism or trade. In these and other day-to-day activities our mutual interests are considerable and growing all the time. Needless to say I welcome this trend and, together with my colleagues in the Embassy, will continue to do all possible to enhance it.