An Irish Garland
Publication
21 December 2020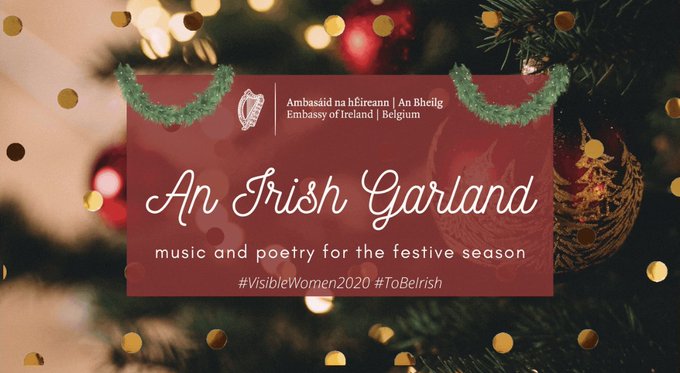 The Embassy of Ireland to Belgium has collaborated with The Irish Theatre Group in Brussels, poet Jane Clarke and singer-songwriter Katie Maye to bring you An Irish Garland of festive Irish poetry and music.
An Irish Garland offers a heart-warming and hopeful series of short productions to lift the spirits on winter's evenings wherever you are in the world.
An Irish Garland can be viewed @IrishEmbBelgium on Twitter.
Learn more about the wonderful work of the Irish Theatre Group here, read more of Jane Clarke's beautiful poetry here and check out Katie Maye's music here.
Join us over the coming weeks for #AnIrishGarland of music & poetry for the festive season ✨

Settle in this evening with a first piece by Irish poet @jane_janeclarke

It's guaranteed to leave you feeling hopeful & inspired even as winter sets in❄️@ToBeIrish #VisibleWomen2020 pic.twitter.com/Sh0XCJGAyg

— Irish Embassy Belgium �� (@IrishEmbBelgium) December 4, 2020
#AnIrishGarland Part 2: Snow by @jane_janeclarke❄️

A story of brother & sister experience of WW1 featured in Jane's 'All the Way Home' collection, partly inspired by a visit to In Flanders Fields Museum ���� & which deals with personal stories, incl. of Irish families, of WW1 pic.twitter.com/mMYym8jcMY

— Irish Embassy Belgium �� (@IrishEmbBelgium) December 10, 2020
#AnIrishGarland Part 3: Sing by @jane_janeclarke ��

This third piece from Jane is a nostalgic harking back to childhood Christmas spent at her home-place in County Roscommon ����

Stay tuned for more from #AnIrishGarland between now and the New Year ✨@ToBeIrish @BloodaxeBooks pic.twitter.com/mfkJFytobg

— Irish Embassy Belgium �� (@IrishEmbBelgium) December 21, 2020
Looking for a new Christmas song to soundtrack the next few days? 🎶#AnIrishGarland has got you covered with a beautiful track written & performed by @katie_maye1, who many of you will remember performed at #SBD2019 ✨

Taster below & full track👉 https://t.co/woloKfRx5R 🎄 pic.twitter.com/GZ2Ie42wi5

— Irish Embassy Belgium (@IrishEmbBelgium) December 23, 2020
#AnIrishGarland Part 5 in collaboration with the Irish Theatre Group

Loretta Fahy looks back on a year much different from that we had expected & finds solace in a deepened appreciation for the land the🇮🇪 in 🇧🇪call a 2nd home & 'the quiet new sea friend' seeing her through 🌊 pic.twitter.com/ILlUGxSrOR

— Irish Embassy Belgium (@IrishEmbBelgium) December 24, 2020
#AnIrishGarland Part 6 in collaboration with the Irish Theatre Group🇮🇪🇧🇪

Sparrow in Lockdown, written & performed by Loretta Fahy, is inspired by Spring lockdown days spent observing wildlife adapting, just as we adapted to finding comfort & hope in life's simple pleasures 🐦🌱 pic.twitter.com/LXFaKbYqQ9

— Irish Embassy Belgium (@IrishEmbBelgium) December 29, 2020