'The time is past when a female ambassador was thought extraordinary': Her Excellency Mary Tinney
Publication
21 December 2020
By Dr Ann Marie O'Brien ‌
Born in Scotland in 1924, Mary Tinney spent most of her childhood in Carlingford, Co. Louth and then as a border in St Louis Convent, Monaghan Town. Tinney was an outstanding student and accomplished musician; she studied French and German in UCD, securing a gold medal for oral proficiency in both languages. It is unsurprising given her linguistic skills and academic achievements that she was successful in the Department of External Affairs open competition examinations in 1948. Tinney was just the third woman to enter the department through this process.
Tinney had a varied career, serving abroad in Stockholm, Paris and Strasbourg and in various sections in headquarters at first secretary and counsellor levels. In 1973 she made history as the first Irish female ambassador. She was posted to Sweden and Finland, and in 1976 her appointment was extended to Poland also. There was little public comment on Tinney's appointment, possibly because of the growing number of women entering the Department of Foreign Affairs at this time. The marriage bar was lifted and Ireland joined the EEC in 1973, broadening the career prospects of professional women. This was in evidence by 1978 when the department appointed it's first all-female embassy. Tinney headed the Irish embassy in Belgium as ambassador, while Marie Cross and Kathleen White (and later Gillian Davidson) were posted as first and third secretary respectively.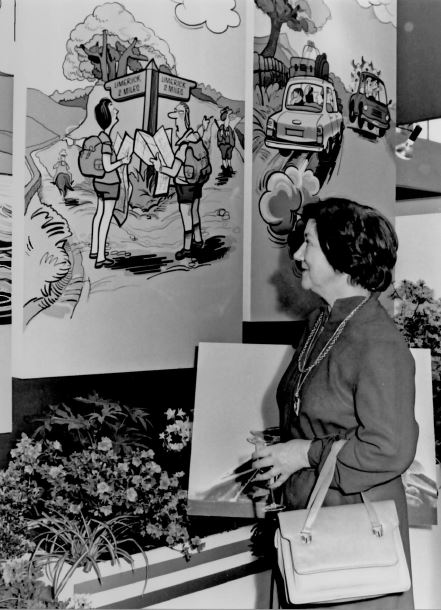 Brussels was an important posting for Tinney. Economically, there was potential for Ireland to expand its business and trade interests in Belgium. Politically, Tinney was at the centre of European policy at a time when there was significant anxiety about possible aggression from the USSR. There was also a widespread need, across all Irish embassies at this time, to present Ireland as a stable political structure against the violence of The Troubles in Northern Ireland. Attention on Northern Ireland in Belgium had piqued since the discovery in Antwerp of an arms cache bound for Ireland in January 1978. It was Tinney's responsibility to promote the government's message which rejected violence as a means of bringing political change to the country.
Amid these political challenges Tinney worked the diplomatic circle in Belgium through entertainment and music. As an amateur musician her grand piano accompanied her on all of her postings abroad and she held music nights at the Irish embassy for friends and colleagues. She explained that the job of ambassador was social, 'in the sense of meeting new people' and she hosted dinners at the embassy and attended diplomatic functions.
Tinney remained in Belgium until 1985 when she received her last posting as Ambassador to Kenya. Two years later she retired from the department. Despite her success as an official Irish representative, and a career of firsts in the context of her gender, Tinney remained modest about her achievements. She viewed her career as a 'natural development'; 'In practice women didn't get into the Foreign Service at all until the Fifties , and those that entered then have climbed the career ladder and are eligible for ambassadorial posts now.' Yet her career was extraordinary, not only was she a role model for other female diplomats, but she showed senior officials in the department that women were equally capable as their male colleagues of working for the interests of the Irish state. She was a true trailblazer and it is only right that her achievements should be recognised.
About the author
Ann Marie O'Brien holds a BA and Masters from Maynooth University. She graduated in 2017 from the University of Limerick with a PhD in History, which was funded by the Irish Research Council. She has published in Irish Historical Studies and Irish Studies in International Affairs.
Ann Marie is the author of The Ideal Diplomat? Women and Irish Foreign Affairs, 1946-90 published in 2020 by Four Courts Press.