Women's Film Days - "Wave Goodbye to Dinosaurs" Screenings and Q&A - 5 & 6 November 2019 at 18:00
News
31 October 2019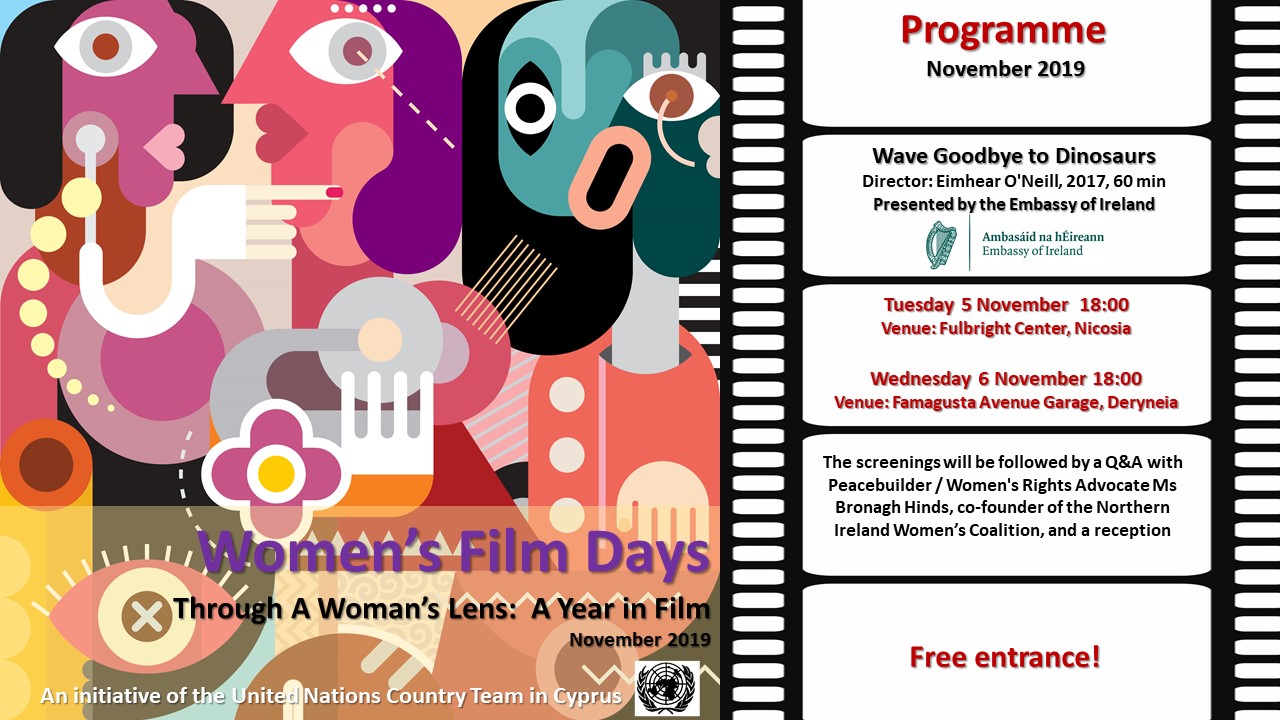 Details for the screenings
Dear friends
As part of the United Nations Country Team in Cyprus' Women's Film Days initiative the Embassy of Ireland is hosting two screenings of the acclaimed documentary film "Wave Goodbye to Dinosaurs", which tells the inspiring story of the Northern Ireland Women's Coalition.

Screenings will take place in Nicosia on Tuesday 5 November (Fulbright Centre), and Deryneia on Wednesday 6 November (Famagusta Avenue Garage). The film is in English with Greek and Turkish subtitles.


The screenings will be followed by a discussion with Peacebuilder/Women's Rights Advocate Bronagh Hinds, and a reception.

These are public events presented by the Embassy of Ireland. Further details in the attached flyer.

Please register to attend at nicosiaembassy@dfa.ie
‌
Bronagh Hinds - Peacebuilder / Women's Rights Advocate

Bronagh is the Senior Associate with DemocraShe, formerly a Senior Fellow in Queen's University Institute of Governance and chief executive in the voluntary sector. Her work in leadership, governance, equality and diversity, policy development and peace-building is with public, private and non-profit sectors and international bodies within and beyond Northern Ireland.
Alongside her role with DemocraShe, Bronagh has also had notable influence in Women in Local Councils, the Women's Policy Group and the Women's Budget Group. She was the Deputy Chief Commissioner of the Equality Commission for Northern Ireland between 1999-2003. She was a Senior Practitioner Fellow at Queen's University Institute of Governance for six years following 20 years in the voluntary sector as director of Gingerbread NI, regional director of Oxfam and director of the Ulster People's College. She was the founder and chair of the Northern Ireland Women's European Platform 1988-1998 and served as a Commissioner on the Northern Ireland Local Government Staff Commission 2005-2010 and the final Northern Ireland Commissioner on the UK Women's National Commission 2007-2010. Internationally, she is heavily involved with the advisory board to the UN Special Envoy to Syria, advocating a greater role for women in conflict resolution negotiations.

https://www.acenturyofwomen.com/bronagh-hinds/